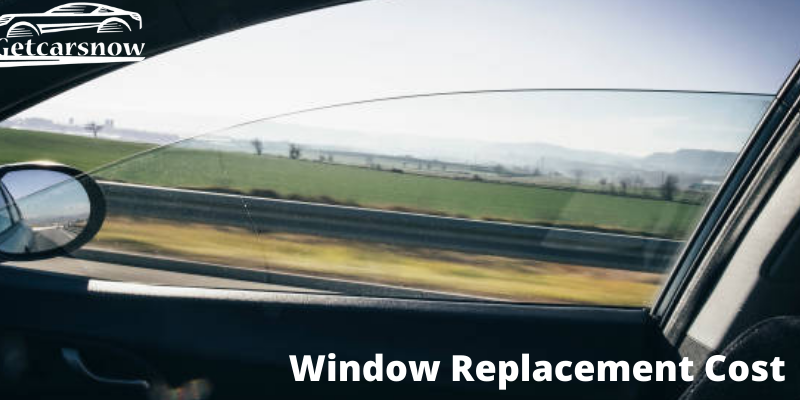 July 8, 2021

July 8, 2021
0 Comments
Window Replacement Cost
Do you know that there is a multi-billion dollar market for Automobile Accessories? Even the smallest of the car accessories needs to be manufactured in a huge number. Among the different accessories, one of the most in-demand and huge markets is for Car Windows. With the rise in the number of car accidents all over the world, the demand for window replacement for vehicles has also increased. Let's discuss the Window Replacement Cost and why window replacement is actually required.
Table of Content
Why Window Replacement?
Factors affecting the Window Replacement Cost
Actual Cost for Window Replacement
Precautions After Replacing a New Window
Conclusion
Why Window Replacement?
As we already know that the demand for window replacement has risen like never before. Let's see some major reasons that lead to the huge demand for window replacement.
Accident Ratio
On a yearly basis, more than a million people lose their lives because of road accidents. This number is rising every year at a massive rate. With a huge number of road accidents, the cases for repairing vehicles have increased massively. And most of them have a broken window that requires replacement.
Window Repairing is Quite Impossible
The scratches or the damage on the glass of a window is not possible to repair. You have two options for a damaged or a scratched window. The first option is to leave the window as it is, which has its own consequences which we will discuss in the later section. Another option is to replace the damaged glass with a new one.
Poor Visibility
It is another reason that leads to window replacement. Avoiding cleaning of windows leads to poor visibility and stains on the glass. Well, the front seat windows are much more important and require immediate replacement.
Prevention from Dirt and Water
A broken window is a way for dirt and rainwater to enter. Windows are not only important to look at the view outside. But also, they prevent the dust from entering inside the car. So, you should replace the broken window immediately.
Protection from Robbery
Another important reason why a broken window needs immediate replacement is because of the car robbers. It is so easy to break a broken glass. You surely don't want your car to get robbed just because you were afraid to spend a few hundred dollars to replace windows.
The maintenance of a car is one thing you should never avoid. Also, you should not confuse windshield replacement and window replacement. They both are different components of a car.
Factors affecting the Window Replacement Cost
There are several factors that decide the cost of window replacement. Here is a list of some major factors that you should know:-
Quality of the Glass
The most common factor affecting the cost of window replacement is the quality of the glass used for making windows. The luxury and more expensive cars obviously use very high-quality glass. While the quality of the glass of low range cars is not that good. Quality of the glass refers to the life of the mirror, durability, and tensile strength, etc.
OEM Window
OEM refers to the Original Equipment Manufacturers. If you want a high-quality window just similar to the original window. You must contact OEM suppliers. The glass used by them is similar to that of the original window. Obviously, the cost they will charge is high but you will get a top-quality window for your car.
Aftermarket Window Manufacturers
Aftermarket manufacturers are the wholesale and retail manufacturers of car accessories. If you want to fix a broken window cheaply, you can contact aftermarket suppliers. The quality of the glass will not be that good compared to the OEM manufacturers. But, you will save some bucks for sure. But it's worth spending some extra money on high-quality glass.
Actual Cost for Window Replacement
As we have discussed above, the factors that affect the window replacement cost. Now, let's come to the point and discuss the actual cost for Window Replacement. The cost for window replacement varies with the cars and their models. Like Chevrolet, Ford, Toyota, everyone has different costs for replacement. Even the models of these particular brands have different window replacement costs.
Well, here is a rough idea about the actual cost. The window replacement for Ford and Toyota varies from $200-$500 depending on their models. For luxury cars like BMW, Porsche, and Mercedes, the cost of replacement for windows varies from $1000-$1200. The service charges are not included in this cost. The auto body repair shop will also charge for their service.
Don't you wonder why bodywork is so expensive? It is because of high expertise, skills, and concentration that is required to provide better finishing and perfection. 
Precautions After Replacing a New Window
There are several things you should know after replacing a car window. First of all, you should not wash the car window for around 24 hours. Secondly, prevent your car from potholes as much as possible. And at last, leave the tape as it is on the window for a whole day to prevent it from unavoidable dust and water.
Conclusion
Window Replacement of a car requires a high skill set. You should know that the cost of service for replacement is different at different repair shops. If you want to have better finishing and high-quality service, you should take your car to the auto body repair shops but not to auto repair shops. Because window replacement is body work. They will charge a few extra bucks but you will get proper satisfaction. Also, you can look at the differences between auto body repair and auto repair shops.
Another thing you should know is that there is a big difference between the windows and the windshields. So the Windshield Replacement Cost is different from that of the Window Replacement Cost.
Hope you find relevant information on the Cost of Window Replacement.