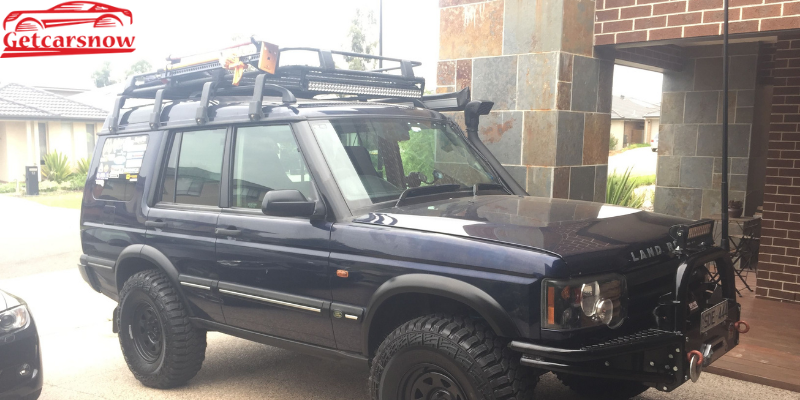 September 30, 2021

September 30, 2021
0 Comments
Used car buying guide: Land Rover Discovery 2 – Complete Guide
The second-generation model of Land Rover Discovery has got some bad reports about its poor quality and being unreliable. However, it proves itself to be an unbeatable car on the rough train. Car lovers forgive its drawbacks and acknowledge the fun of driving with the car. It contains many technologies inside the car but is really lesser than its current models. So you will find the car much easier to repair. Its features and specialty does not end there as it is able to retain the Discover 1 unique stepped-roof. However, the Land Rover Discovery 2 is not that different from its predecessor in terms of its exterior design but has a really new look from the inside. 
The Discover 2 rusts in the chassis but not the entire body which is just the reverse of its previous version. The backside of the Discover 2 is more vulnerable to off-road driving conditions. The car looks wonderful but it has a rusting problem. To solve it you can also replace the chassis entirely. Its engine has a great problem with its coolant. Also, some versions also have problems like air suspension and suspension lock braking system may become unresponsive.
Table of Content
Choices that Discovery 2 offers
How to find your Discovery 2
What you should check before Buying Discovery 2
Pros and cons with Discovery 2
Conclusion
Choices that Land Rover Discovery 2 offers-
It contains a 2.5-Litre TD5 diesel engine with an electric engine management system. Also comes optionally with a 4.0-Litre petrol V8 engine that can generate a power of 180bhp. Some of its versions also have a forward-facing third-row seat and can really affect the practicality of the car. The seven-seat model has an optional active cornering enhancement that helps the car to be more reliable in the curves. It also comes standard with an active suspension on the rear that gives a comfortable ride to the passengers.
How to find your Discovery2–
The body of the Discover2 doesn't rust like its predecessor but there is a problem of rusting in its chassis that you can replace entirely. Also, there are fewer electrical problems in the car than in its predecessor. However, if you really want to buy a used Discovery 2. Then check it thoroughly and especially its rear extension and poke behind the rear springs. You should check the gears and selectors of the manual gearbox R380 although it is not that troublesome.
A harsh sound from the engine side at high speed suggests worn-out front wheel bearings. That suggests they are new ones and have an expensive hub assembly. If a whistling sound is coming from the engine then it may be through a warped exhaust manifold. Also if some extra heat is coming from tuning then you should immediately repair it before your studs snaps. If there is some misfire in the engine then it may be due to the oil sweeping in the injector harness and moving around the ECU connector. You can simply unplug it to see if the oil is visible. The starting problems in the engine may be due to the leaky injectors. But a damaged injector seal can allow oil to get into the sump. You can detect it by simply smelling your dipstick.
What you should check before Buying Land Rover Discovery 2-  
Engine- By running the car you can check that your engine runs smoothly and efficiently. Also, you can look for your coolant expansion tank if there is any leakage in the engine due to overheating. The wrong condition of the cylinder head may seriously damage your car and can land you burning a lot of money for your engine. You can trace overheating in the more powerful V8 by the wrong head gasket or even worse cylinder liners. These types of problems are almost not feasible to repair.
Electronic component- Have a proper look at the hill descent control lights, ABS, and traction control are in a properly working state. If they are not working well then you can be in danger. Also, it can be pointing to the problems in the slab system.
Wheels, Brake, and suspension- Check for the rusting in the brake pipes also the active suspension is in a good state. If a loud sound like roaring is coming at high speed then it may suggest malfunctioning front wheel bearings.
Body and Chassis- The rusting in the chassis is a very frequently occurring phenomenon in Discover 2. Rusted chassis can mean that you have to replace the chassis and just weld it up. You should also check for the body design and condition of the vehicle that may have gone through an accident in the past.
Pros and cons with Discovery 2-
The 4.0 Litre V8 engine is more powerful than its previous version. Also, the car drives with comfort and smoothness. It has a durable body style and paintwork.
Its bumpers suffer damage in the off-road condition but you can also opt for steel bumpers to safeguard your car. Also, you need to have some extra protection in your chassis from rusting. As rusting is a big problem with the car's chassis. There is also a problem with the coolant in the V8 engine and can lead to replacing the complete engine compartment.
Conclusion-
The Land Rover Discovery 2 is a great car as it comes standard with hill descent control and traction control. It also has a locking center differential so that you can easily put a linkage and operate the vehicle. Also if you don't like the internals in your car then you can replace them with some nice ones from other companies and are really easy to fit. In 2003 when the new model has announced the differential was the option. The front and rear headlights were redesigned and the indicators were replaced from the bumpers to sides.
There is even a range of models available in this car segment with the starting price of 22,000 euros. However, the condition of the model is more important than its model name. Diesel models are more favored but petrol can easily outperform in terms of smoothness.