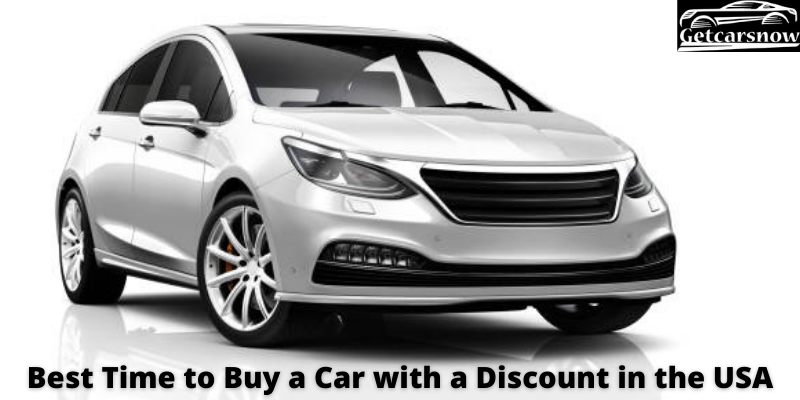 August 3, 2021

August 3, 2021
0 Comments
8 Best Time to Buy a Car with a Discount in the USA
Having a car is so essential nowadays not only to travel from one place to another but also to raise your standards outside. But it is really difficult to decide whether to buy a Chevrolet, Toyota, or any other affordable car. More difficult than deciding the brand of the car is to decide when to buy the car so that you can save a few thousand dollars. If you are planning to buy a car too, don't worry, here, we will inform you about the best time to buy a car with a discount in the USA.
Well, every car manufacturer sets a different price range for their cars. Some car manufacturers offer a big discount on their automobiles while some manufacturers offer discounts only in certain cases. So, let's see when is the best time to buy a car with a discount.
Just After The Car Launch
Whenever any car manufacturer launches a new car in the market, there are maximum chances that you can buy that car at a low rate. To promote their car, the companies generally offer a big discount on the first few hundred cars. Well, you have to be prepared in order to claim the discount. Because a large number of buyers are trying to claim the offer. But, if you avail of the offer, you can surely save a few thousand dollars.
End Of The Year
The above case is only beneficial if you are planning to buy a new car. But what if you want to buy a car that has been launched a few months or a few years ago. Don't worry, you can still get big discounts on your favorite cars. One of the best times to buy a car is at the end of the year. Generally, during the month of December, car manufacturers offer heavy discounts to increase their yearly sales. It benefits both the customers and the manufacturers.
Launch Of New Edition/Model
Whenever a new car model is launched, the price of the old car models generally reduces at a very high rate. Obviously, you have seen the same thing with cell phones. The launch of the iPhone 12 leads to a sudden drop in the price range of the iPhone 11. The same happens with automobiles. Well, obviously it is not a good option to wait for the launch of a new model in order to buy a previous model at a discounted price. But you can surely look at the upcoming models of your favorite car.
Festive Discounts
The best time to purchase a car is during the festive seasons. Companies offer heavy discounts and benefits during festivals. The most famous festivals during which the car companies generally offer discounts are Halloween, New Year, Christmas, Thanksgiving, Easter, Valentine's Day, etc. The car companies gain most of their profit during these festival times and also benefit the customers. So, it is a fair deal that you can get during the festive season. Not only you can get discounts, but car companies also offer insurance benefits, gifts, etc to their buyers during these times.
After Updation In The Current Model
Sometimes, due to some miscalculations of the car manufacturers, the car buyers have to face some major issues with engine, brakes, or transmission, etc. These issues are unfortunately not observed during the manufacturing and the whole slot of a car manufactured by the company has the same issue. If there is a minor issue, the companies generally modify and update the model and sell it at a discounted price in order to clear the slot.
New Year
Generally, new cars are launched during a special occasion. The best time for the companies to launch a car is the New Year. Well, with the beginning of the new year, the prices of automobiles increase to some extent but it also leads to the reduction in the prices of the previous car models. This heavy discount on the cars generally lasts for a whole month of January. So, you can definitely take advantage of this offer as it is the best time to buy a car with a discount in the USA.
Month End
If you are in a hurry and can't wait for the festival season or a launch of a new car model, you can also avail yourself of discounts on cars at the end of every month. You must be wondering why car companies will offer you discounts every month end? Well, it is because they have targets too. To complete their monthly targets, the car companies offer discounts and other related benefits to their customers.
Financial Quarters
Financial quarters mean every 3rd month in a year that is March, June, September, and December. Car Manufacturing companies generally look for their sales and target every 3 months after reviewing the monthly targets. During these financial quarters, car manufacturers offer discounts to increase their turnovers in these particular periods. These are some basic strategies of companies to empower their business. So, it is a better option for you to buy your car during the last weeks of these financial months. You will not get heavy discounts but still, you can save a few thousand bucks.
Conclusion
Buying a car at a reasonable price can be very tough if you don't know when is the right time to buy a car. But one thing you should know is that buying a car is only the first step. You should also know how important it is to maintain a car. So, you can look at the above-mentioned timelines to buy your car so as to get maximum discounts.
Well if you are planning to buy a car, you can also look at the Top 5 Best Sports Cars, Best Affordable and Cheapest Cars, etc.
Hopefully, now you know about the best time to buy a car with a discount in the USA.