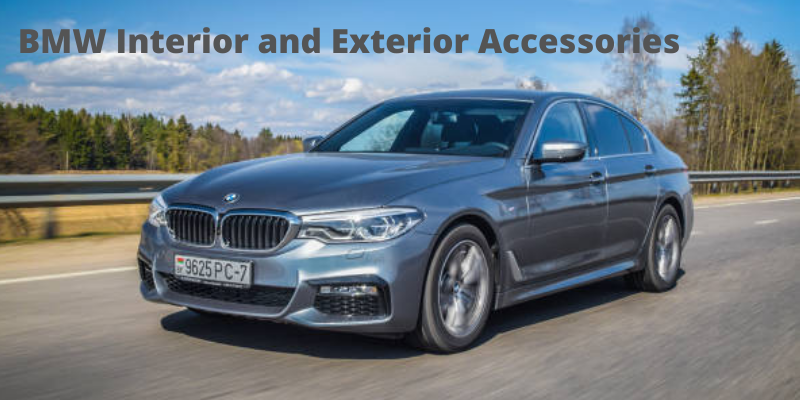 June 16, 2021

June 16, 2021
0 Comments
BMW Interior and Exterior Accessories
One of the most popular automobile company BMW is well known to serve you luxury and comfort. With an eye-catching look and jaw-dropping features, BMW has captured a big market with its modern and advanced technology. You can't judge a car by its exterior look only. From its body to accessories and BMW engines, everything contributes to the quality and reputation of a car. Here, we will discuss one of those important factors that are BMW Interior and Exterior Accessories that has helped this German Company to showcase its class.
BMW Interior Accessories
BMW is one of the big brands in the automobile industry. With expensive cars, the BMW accessories are also costly enough. But these accessories add a new look and some amazing features to your car. Firstly, let's discuss the interior accessories of BMW:-
Dashboard Kit
The first thing that gets attention inside a car is the dashboard. Well, BMW has an attractive dashboard anyway. But you can add on some new decoratives and features to it to make it more attractive. Keep in mind, do not overdecorate the dashboard as it may look cheap inside the big brand of BMW.
You can get a new custom look of a dashboard with any color you want. Also, you can mount a new car stereo or radio on the dashboard to boost up the sound system.
Car Eye 2.0
This is another brilliant feature that is offered by the German company BMW. This advanced cam helps you to secure your car even when you are not around. This special camera covers both the rear and front angles of the car. It records everything even when your car is parked somewhere and if there is any disturbance outside the car. It prevents you from possible thieving events.
Windows Tint Kit for BMW
Don't you get amazed when you see a beautiful luxurious car with black film on the windows? Windows tint provides an astonishing look to the BMW especially as it is already an art and the coating provides an edge to its look. Not only for the style but also windows tint helps in the prevention of harmful UV rays that get trapped inside the car.
Seat and Backrest Cover
BMW has done everything possible to provide you the best and comfortable ride. The seats of the car are extremely smooth and comfortable. But one issue with the interior of any car is the car maintenance and its cleaning. That's why seat and backrest covers are an essential accessory to add-on inside your car. BMW provides polyester high-quality fabric to avoid complexity in cleaning the car interior and to protect your seats from pressure marks. It also provides more smoothness and comfort to the ride.
BMW LED Door Sills
LED Door sills aren't a major accessory but it provides extra luxury while opening or closing the doors by emitting light. Well, BMW is all about luxury and satisfaction. So, even a minor upgrade in accessory looks spectacular.
Floor and Luggage Compartment Mats
Proper fitting mats for floors and luggage compartments with high durability are necessary accessory upgrades for easy maintenance of BMW cars. These mats are waterproof and anti-slip and require less effort to clean.
Read More: Used BMW Transmissions
BMW Exterior Accessories
As you must have heard the phrase 'don't judge a book by its cover'. But it's actually the opposite in the automobile industry. People generally judge cars by its body. That's why luxury cars have luxurious exteriors too. So, if you want to keep the status of your BMW car, you surely need to maintain its exterior. Because the exterior of the car gets soiled first.
For this, you can buy and add some exterior accessories to your car. Some of them are following:-
Vehicle Wrapping
Are you bored watching the same color and exterior of your car and want to transform it? You can totally modify your car by applying different paints to it. There are different types of cheap paints available. So spend some extra money and use premium paint that has high durability.
Mud Flaps for BMW
During the rainy seasons, the body of the car gets extremely dirty and requires high maintenance. Just a small accessory can prevent your branded car from unnecessary cleaning. Mud Flaps are used to protect your car and the car behind you from the mud.
Paint Protection Kits
BMW is well known for its body look. But imagine, after a few years, that shiny look of your car gets fade away. One thing that can protect the shiny and luxurious look of your car is the paint protection kit. It is worth spending your money on this accessory. Choose the kit wisely. Spend some extra money to get the kit with high thickness, more durability, and stain-resistant properties.
Outdoor Cover for BMW Cars
The outdoor cover is an essential accessory required to maintain your car standard throughout the year by protecting the car from direct sun rays, from dirt and water during winds and rainy seasons. This is the most basic accessory required for not only BMW car owners but other car owners too.
Pillar Trim
You might have heard about the pillar trim probably for the first time. Pillar trims are the separation part between the doors and the windows. This part of the body is quite dull. That's why they use of pillar post trim kits helps to provide an extra shine through carbon fire or chrome finishes.
Conclusion
BMW is manufacturing luxury cars for many decades. They have considered every minor issue that may occur with the car to provide you 100% comfort and satisfaction. Even the BMW Interior and Exterior Accessories and upgrades are manufactured with extreme research and by focusing on customers' requirements.
But you need to look out for yourself about the need and requirements of accessories. There are hundreds of BMW accessories and upgrades. So, set your budget, find your need and buy the relevant accessories for your car.