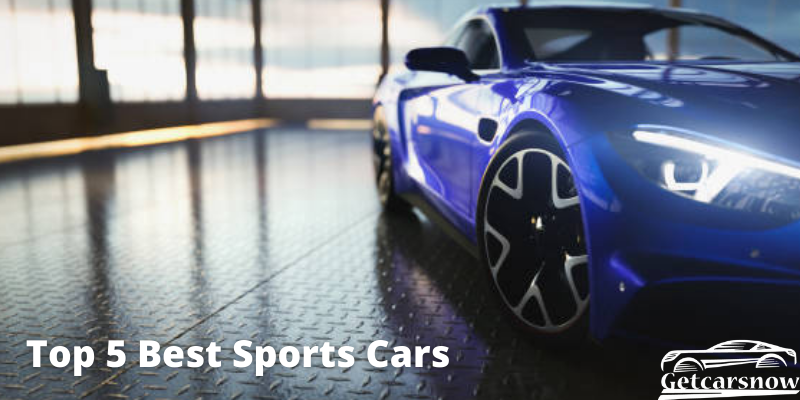 July 29, 2021

July 29, 2021
0 Comments
Top 5 Best Sports Cars
The Automobile Industry is all about speed and luxury in the 21st century. Buying a sports car is still a dream of many people. Even the voice of the engine can make you crazy about these sports cars. The exterior look of the sports car is so luxurious that one cannot avoid looking at these beasts on the road. If you are one of the speed lovers, here we will provide you a list of the Top 5 Best Sports Cars that are popular worldwide.
Some big names that come into mind when we talk about speed, luxury, and comfort are Mercedes, BMW, Porsche, McLaren, etc. But in this race, there are some other manufacturers too who have shown their real strength. Chevrolet and Toyota are some famous names that not only manufacture affordable and cheap cars but also fought like a champion in the arena of high-speed sports cars. So, let's see some of the best sports cars with no competition in the market till now.
McLaren 765LT
One of the most expensive automobile manufacturing companies, McLaren is popular worldwide because of its high-speed luxury cars. McLaren doesn't manufacture its cars in bulk. As the market of McLaren is not so huge because of its expensive stuff. But the brand has a huge fan following in the market. Here are several reasons why the McLaren 765LT is among the best sports cars worldwide.
Engine Strength: The major reason behind the high speed of the McLaren 765LT is the strength and power of its engine. It comes with a twin-turbocharged V8 engine. This 8-cylinder piston engine provides a massive amount of power to this beast. Also, the maximum power offered by 765LT is 755 bhp. 
Speed: The best part about the McLaren 765LT is its speed. This car can travel from 0-100 km/h in just 2.8 seconds and 0-200 km/h in 7 seconds. So, now you must have got an idea why this car is added to the top list of best sports cars.
Brakes: If your car can travel at such speeds, you can't compromise the quality of the braking system. McLaren 765LT has carbon-ceramic disc brakes with 6-piston aluminum calipers in front brakes and 4-piston aluminum calipers in the rear braking system.
Audi R8
Audi has been successfully manufacturing some amazing luxurious and racing cars for the past few decades. Unlike McLaren, you can buy Audi cars even at a moderate price range. Obviously, Audi is not a cheap and affordable car for everyone. Audi R8 is one of their successful productions not only in the United States but all around the world. It is an expensive toy and has some mind-blowing features. So, let's see some major features of the Audi R8.
Powerful Engine: Audi R8 has a V10 engine that means it consists of a 10-cylinder piston engine. It helps to travel at extremely high speeds with minimum vibrations. Obviously, the fuel economy is not very efficient because of such power. But, when you spend thousands of dollars, you are more focused on speed, luxury, and comfort.
Speed: The top track speed of the Audi R8 is 329 km/h. Also, it can travel from 0-100 km/h in just 3.2 seconds. Imagine riding a car at a speed of more than 300 km/h. The experience of riding such an amazing supercar is just bliss. 
Power Offered: Audi R8 offers a maximum power of 602 hp which is quite good. But with the generation of such high power inside the engine, R8 requires high maintenance too. You can't avoid maintenance if you want to save thousands of hard-earned dollars.
If you have an Audi and want to replace its transmission with a Used Audi Transmission, here is detailed information on it.
Mercedes AMG GT
Mercedes is one of the most popular automobile brands that have been successfully producing sports cars for decades. One of the most incredible and famous productions by Mercedes is the Mercedes AMG GT. It comes with several models and cars. Here are a few major reasons behind the success of the Mercedes AMG GT.
Exterior Look: The headlamp exterior body design has made this car one of the most beautiful cars out there in the market. You will fall in love with this car just by looking at it. 
Features Inside: Not only the exterior look but the interior of the car is also beautifully designed to provide you maximum comfort. The use of modern technology inside is jaw-dropping. The atmosphere inside the cockpit is created in such a way that makes you feel like you are flying a plane.
Safety: Mercedes has designed this car to provide maximum safety to the rider and the passengers inside. First of all, the body of the AMG GT is light in weight and its structure is also so rigid and durable. Secondly, ceramic brakes are used to avoid collisions even at high speeds. Also, sensors and cameras are installed for minimum chances of any damage to the car and the driver.
Ferrari F8
Whenever there is a talk about exotic and sports cars, the name Ferrari comes first to our mind. They have built a great reputation for manufacturing high-performance cars. Ferrari F8 is one of their greatest successes. Features of F8 are following:-
Engine: Ferrari F8 has a twin-turbocharged V8 engine. The maximum power offered by the F8 engine is 710 hp. F8 is dominating several cars in the same price range with its high-performance engine.
Transmission: Ferrari offers a 7-speed automatic transmission in F8. It means that it can literally travel at a rocket speed with no vibrations because of its highly powerful engine.
If you don't know much about the difference between Automatic Transmission and Manual Transmission, here is a complete guide on it.
Exotic Body: The exterior body of a Ferrari F8 has an exotic look. The raw material used is very light in weight and also the exterior is available in different colors. 
Chevrolet Camaro
Chevrolet is among the most reliable car brands. Whether you want to buy cheap and affordable cars or you want to have a luxurious or sports car, Chevrolet offers everything to you.
Camaro is one of the most loved sports cars manufactured by Chevrolet. Here are a few reasons for a huge demand for Camaro in the market.
Affordability: The best part about the Camaro is that it is not as expensive as the other cars on our list. The base model of Camaro starts at roughly around $25000. It is among the cheapest sports cars available in the market. But obviously, there are many other sports cars with amazing features, but the Camaro is added to this list because of its powerful engine and features in this price range.
Torque and Power: The maximum power offered by the Camaro is 650 hp. While the torque offered is roughly around 650 lb-ft. In this price range, such power and torque are extremely good.
Speed: The Camaro can go from 0-100 km/h in just 5.4 seconds. Again, the mileage and speed at this price range are just amazing to watch.
You can also have a look at an in-depth guide on the Chevrolet Camaro Engine.
Conclusion
Well, everyone loves fancy and sports cars. This list is just made on the basis of people's choices. But there are several other big names out there with amazing sports cars like BMW and Lamborghini.
Hope you find relevant information on the Top 5 Best Sports Cars.