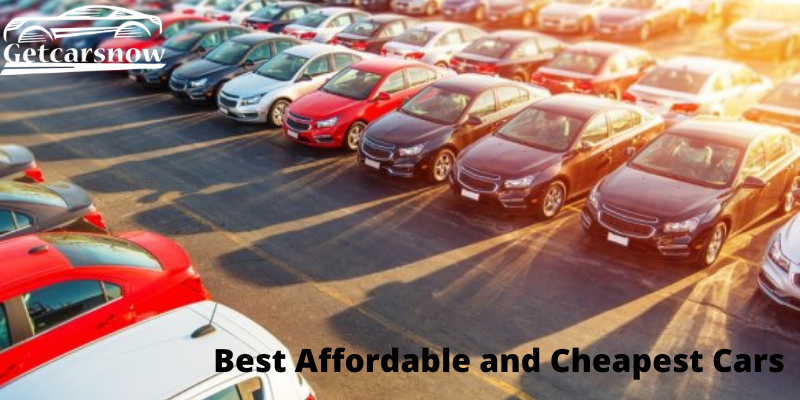 July 28, 2021

July 28, 2021
0 Comments
Best Affordable and Cheapest Cars – Complete Guide
The advancement in technology has totally revolutionized the automobile sector. The demand for the automobile industry has increased like never before. Nowadays, you can easily buy a car with a powerful engine, amazing features, and a beautiful exterior body at a very affordable price. In this 21st century, humans are extremely dependent on automobiles to cope up with the pace of others. But people are much worried about the expense they have to bear to buy a car and to maintain it. So, here is in-depth information on the Best Affordable and Cheapest Cars that you can buy.
1. Toyota Corolla
Toyota is not a new automobile company. You can totally rely on the cars manufactured by Toyota. One of the best and the most affordable cars manufactured by Toyota is the Toyota Corolla. It is a compact car that starts with a base model of around $20000 which is not at all expensive because the features offered by the Corolla are extremely effective and powerful. Few reasons to buy Toyota Corolla are following:-
Reliable Engine Strength
Toyota Corolla has several engine models. With a 1.2l engine capacity to 2.0l capacity, the turbocharged engine produces enough power to drive your car smoothly at high speeds.
Exterior Look
In this price range, Toyota has offered an extremely beautiful and strong exterior body. The first thing that matters while purchasing the car is the exterior look of it. Toyota has not compromised anything to manufacture an amazing outer look of Corolla.
Fuel Economy
The fuel economy of Toyota Corolla is also better than the competitors who are producing cars in the same price range. It is very essential to have a good fuel economy as the maintenance requirement is least in such a case
You can also have relevant information on Toyota Prius Key Replacement Cost and Toyota Corolla Side Mirror Replacement Cost in detail.
2. Hyundai Elantra
If you want to know the name of an automobile manufacturer that has improved and changed itself the most in the last few decades, it's Hyundai. Hyundai is among the most popular automobile companies that have manufactured some powerful and luxurious cars in a very affordable price range. One such production of Hyundai is the Hyundai Elantra. Elantra is a Sedan and its base model can cost you roughly around $20000. Let's see a few major reasons you should prefer buying Elantra over other cars.
Car Performance
The overall performance of the Hyundai Elantra is really exceptional. In this price range, such comfort and strength have made the Elantra one of the most popular cars manufactured by Hyundai.
Luxury In and Out
Hyundai Elantra not only offers a luxurious exterior body look but also offers an amazing interior style and comfort. Elantra doesn't look less luxurious than any expensive automobile. If you are planning to buy a car in this range, you can definitely buy Hyundai Elantra but maintenance charges are a bit more than compared to other cars in this range.
Automatic and Manual Transmission
You can buy an Elantra with both manual or automatic transmission. Elantra has a 5-speed manual and 4-speed automatic transmission. Generally, you will find a few cars with all these features that include automatic transmission as well. If you don't know much about it, you can have detailed information on the difference between Automatic and Manual Transmission.
If you also want to know more about the Hyundai Elantra, here is in-depth information on Hyundai Elantra Brake Replacement Cost.
3. Nissan Versa
You must have heard about the Nissan before. Nissan is basically famous for producing cheap and affordable cars with reliable features. Nissan Versa is one of its greatest productions. Here are several features that can help you decide whether the Versa is a suitable car for you or not.
Affordability
Nissan Versa is a compact car with a price of roughly around $15000 for the base model. Isn't it great to have some amazing features and a reliable car under your budget? There are other cars too within the same range that offer amazing features but comparatively, Nissan Versa offers better features, runs smoothly, and it can withstand heavy load.
Maximum Safety
The reason behind the success of Nissan Versa is also because of the safety components offered by them. Nowadays, customers are more interested to know the safety measures provided by the automobile companies than any other features at first. Due to its highly reliable braking system and sensors, Versa has outrun other automobiles in the same price range.
Low-Cost Maintenance
The maintenance cost is also a very important factor that is considered while purchasing a new car. The cost of maintenance of the Nissan Versa is not at all expensive. Its replacement parts are also cheaply available and repairing cost is also very cheap. That's why it is among the best affordable and cheapest cars that you can buy.
If you already have a Nissan car and you want to replace its transmission with a Used Nissan Transmission, here is complete information on it.
4. Chevrolet Spark
Chevrolet Spark is a compact car and the main reason to add Spark to this list is the price and features of this car. You can buy the base model of Spark for under $15000. Here are a few features of the Chevrolet Spark.
Power and Torque
Chevrolet Spark offers a power of 62.1bhp and a torque of 90.3 Nm. In this price range, power and torque are quite effective especially because it is a small compact car and light in weight. The car doesn't vibrate even at high speeds.
Fuel Efficiency
Chevrolet Spark comes with a fuel tank capacity of 35.0 liters. Also, it has a good fuel economy and can save your money on maintenance. Higher fuel economy also helps your car to run smoothly and efficiently in the long run.
Also, you can have a look at the complete guide on the Chevrolet Camaro Engine and Chevrolet Blazer Engine.
5. Hyundai Accent
We have already discussed the strength and reliability of Hyundai before. Hyundai Accent is another powerful sedan that you can buy under your budget. Its base model starts at roughly around $16000. Let's discuss some major reasons that separate Accent from the rest of the cars.
Transmission
Accent offers 6-speed manual transmission which is usually not found in this price range. Even at high speeds, the control of the Hyundai Accent is great.
Low Maintenance
Generally, Hyundai cars require high maintenance. But Accent is so reliable and requires minimum maintenance. Also, the cost of the maintenance of Accent isn't so expensive.
Interior Features
Hyundai offers many advanced features inside the Accent. Cameras and sensors inside the Accent are so reliable and offer maximum safety.
Conclusion
There are pros and cons to every car. But the above-mentioned cars are among the best affordable and cheapest cars that you can buy with minimum maintenance requirements.
Hope you find relevant information in this detailed article.