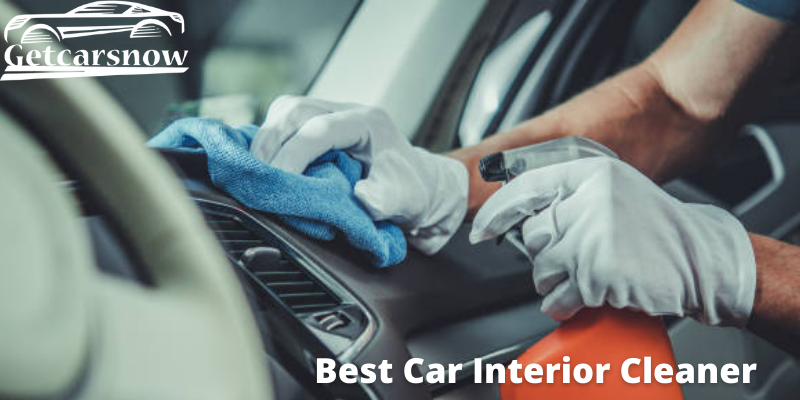 July 6, 2021

July 6, 2021
0 Comments
Best Car Interior Cleaner
Car maintenance is one of the most essential and unavoidable things that are required after purchasing a car. Generally, people buy a vehicle and forget about its maintenance. Ignoring the maintenance and cleaning of a car causes major problems in the long run. Not only the exterior of a car requires cleaning and maintenance, but the car interior must be cleaned thoroughly too. So, here we will discuss some best Car Interior Cleaner that you can use. Also, you can look at some tips and tricks to disinfect car interiors.
The best part about these cleaners is that they are not so costly and also they last for years. So, it is basically a one-time investment that helps to make your car interior germs-free and to spread a great fragrance inside.
Table of Content
Importance of car Interior cleaners
Car Interior Cleaner types
Best Car Interior Cleaners
Conclusion
Importance of car Interior cleaners
Nowadays, people are getting the point about how important car maintenance is. Earlier, the main focus was just to clean the exterior of a car well. But now, car interior cleaning has also been considered as an important factor under maintenance. The demand for cleaners is extremely high these days. Let's see, why are these cleaners so important:-
Germs-Free
It is very essential to protect yourself from the germs and bacterias that deposit on the seats, dashboard, staring, etc. Many health-related issues can be prevented just by spraying these cleaners inside the car.
Prevent Accidents
You must be thinking about how the use of cleaners can prevent road accidents. Basically, the windshield of a car and the rear-view mirrors are very essential parts of a car to view clearly what's in front and behind your car. But, dirt, rain, and wind lead to less visibility and more chances of accidents. So, these cleaners are highly recommended to use to clean the mirrors and windshields.
Also, remember one thing that you should not rub these mirrors with your hands or dirty cloth as it may lead to a permanent stain on the mirror.
Car Interior Cleaner Types
There are several types of Car Interior Cleaners that you can use for your car. There are different cleaners available for leather cleaning, fabric cleaning, mirror cleaning, etc. But let's discuss some major cleaner types that are widely used and common:-
Wipes
Wipes are disinfecting fabrics or towels used to clean car interiors thoroughly. It requires more effort to clean through wipes but also it is very beneficial for in-depth cleaning of the interior of a car.
Disinfectant Sprays
It is the most preferred way of cleaning a car interior. The disinfectant sprays are very easy to use, cheaply available, and last longer. It is more preferred than any other cleaner because it saves a lot of time to clean the car interior and requires minimal effort.
Leather Cleaner for Car Interior
Leather cleaners are very useful to clean the leather and helps to provide a shiny and new look on the leather surface.
Best Car Interior Cleaners
We have discussed above the types of car interior cleaners and why they are so important to use. Now, let's see some best cleaners that you can use for your car interior.
Meguiar's Carpet Cleaner
A carpet collects most dirt inside a car. It is very essential to clean the carpet as well as the upholstery. Meguiar's cleaner is very easy to use and cheaply available. You just need to spray it for once and then just clean the surface after 10-15 minutes. It is best suited for the removal of stains and also spreads a better fragrance than other cleaners.
Car Guys Premium Super Cleaner
It is one of the most premium cleaners that help to clean carpets, dashboards, mirrors, etc. Few sprays to clean all the car interior is all you need. It is eco-friendly and leaves no waste.
SprayWay Glass Cleaner
Spray Glass Cleaner is useful to clean the mirrors and the windshields of a car. For better visibility and to prevent road accidents, this Glass Cleaner is best suited for you. It is also not so costly and can last longer as its single spray is enough to clean a mirror. Also, you need to wipe the mirrors with a clean cloth. Remember, don't use dirty cloth else you may need to change glass after a few years.
Vibrawipe Towels
Vibrawipe towels are extremely beneficial if you want to clean your car interior thoroughly. It helps to remove stubborn stains permanently. With such a high-quality fabric and less cost, Vibrawipe towels are much preferred over others. It is also so easy to wash and also the color of its fabric doesn't fade away.
Chemical Guys Leather Cleaner
Chemical Guys is a very popular brand for premium car cleaning products. All of their products have good quality but its leather cleaner is extremely effective, easily affordable, and gives a shiny look at the leather surface for a long time.
303 Protectant
Your car interior needs protection from harmful Ultraviolet Rays. This product not only provides protection against UV rays. But it also helps to clear the dirt from the interior parts of glass, rubber, leather, etc. It is an all-in-one product at an affordable price.
Conclusion
You must understand that cleaning a car interior is of great concern. Not only the car interior, but other parts like a car engine and transmission cleaning are also very essential. If you don't know how to clean your car interior by yourself, you can take your car to the auto repair shops. They will charge for their service but it is worth cleaning your car interior.
Remember one thing, take your car to auto repair shops except take it to auto body repair shops. There is a major difference between auto body repair and auto repair shops. Auto Body repair shops will take more time as they are more focused on body repairing and also they may charge you more. Because their major work is based on the auto body. But it depends on the owner.
Hope you find relevant information on the Best Car Interior Cleaners.