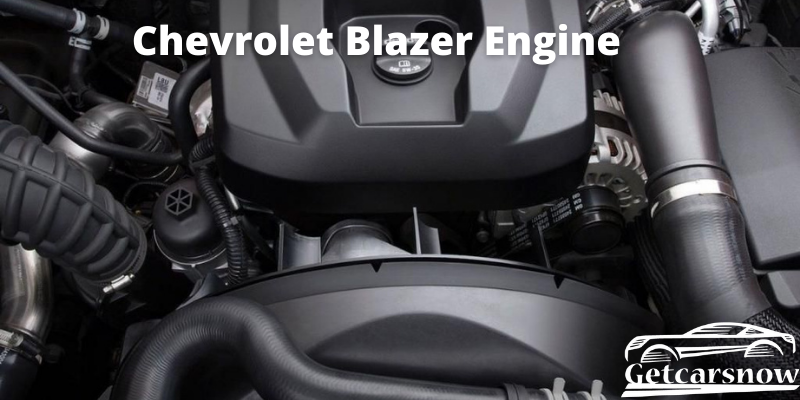 June 29, 2021

June 29, 2021
0 Comments
Chevrolet Blazer Engine
Chevrolet is all set to dominate the automobile industry with its highly reliable and powerful cars. For the past decade or two, Chevrolet is more impressive in manufacturing high-speed cars than ever. The main reason behind their massive success is the car's internal strength which comes from the heart of the car i.e the Car Engine. Chevrolet has manufactured some really powerful engines with General Motors in the past few years. Chevrolet Blazer Engine is one of them.
Blazer is a 7-Seater SUV manufactured in December 2018. Chevrolet Blazer comes with an inline 4- cylinder engine and also 6- cylinder piston engine. Let's discuss Blazer Engine in detail.
Table of Content
Specification of the Chevrolet Blazer Engine
Strengths of Blazer Engines
Problems with Blazer Engine
Maintenance Work for Blazer Engine
Conclusion
Specification of the Chevrolet Blazer Engine
Chevrolet Blazer starts selling in January 2019. This crossover SUV has powerful specifications with affordable prices under such specs.
Blazer has different engine models that include LSV 4-Cylinder Engine, LSY 4-Cylinder Engine, and LGX V6 Engine.
Chevrolet Blazer has 2.5l, 2.0l, and 3.6l Engine options.
The maximum power offered by Blazer Engine is 305 HP.
The maximum torque offered is 365 N.m.
It has a 9-Speed Automatic Transmission.
Strengths of Blazer Engines
The strengths of the Blazer Engine can be seen in the specifications above. But if you don't know much about the technicalities of a car. Here is a list of some key strengths offered by this engine.
V6 Engine
Chevrolet Blazer has a V6 Engine model. With a 6-Cylinder piston engine, fuel efficiency is high. Also, it offers better output power than the V4 Engine. Higher fuel efficiency helps to run the engine more smoothly in a long run.
High Output Power and Torque
As we have seen above, the maximum power and torque offered by Blazer Engine are quite high. It helps the car to travel to highly inclined places and carry more load.
Better Transmission
It offers 9- speed automatic transmission which is amazing to run your car at high speeds with very less vibrations.
Problems with Blazer Engine
With such amazing features and strengths, there are a few common issues that you must know about the Blazer Engine. But these issues aren't the major ones if you don't avoid the maintenance of a car. We will discuss it in the next section. Some of the issues are following.
Damaged piston Rings
Piston Rings are a part of the piston. Basically, piston rings are located at the top of the piston near the combustion chamber, in the middle of the piston, and at the bottom of the piston. These piston rings help to lock the combustion area. Piston rings usually damage with time because of high heat and pressure inside the combustion chamber. Therefore, it leads to the leakage of oil from the cylinder and reduces the engine efficiency. Also, it leads to damage to other engine parts.
How To Identify the Issue
Oil spills at different parts of the engines.
More Vibrations at high speeds.
Overheating of Engine.
Overheating Of Engine
Engine manufacturing is one of the critical parts considering the efficiency of a car. Basically, engines are made to resist high temperatures. But still, sometimes, excess production of heat inside the combustion chamber and use of low-quality coolant lead to overheating. Also, it leads to damage to the engine and requires engine replacement. You already know that prevention is better than cure. The Engine Replacement Cost is high for Blazer Engine. Instead, a better option is to maintain your car well.
How To Identify the Issue
Smoke from the engine.
Damage of engine parts like pistons, valves, etc.
Less Fuel Efficiency.
Dirt and Debris Inside the Engine
Generally, the prevention of dirt is done with the help of Air Filters. There are several filter types that help in preventing dirt and debris to enter. But still, it is not possible to fully prevent the engine from such waste. It leads to lower fuel efficiency.
How To Identify the Issue
Unusual noise from the Engine.
Less fuel efficiency.
Damage of Air Filters.
Maintenance Work for Blazer Engine
Chevrolet Blazer Engine requires basic maintenance. But avoiding the maintenance of your car engine can even lead to engine damage. So, let's see some major maintenance work requirements for Blazer Engine.
Replacement of Engine Parts
Engine Parts like pistons, piston rings, or valves require consistent replacement as they are so close to the combustion area. The exposure of heat and pressure is maximum near the combustion area. These parts are cheap and easily available for the Blazer engine.
High-Quality Coolant for Engine
Blazer Engine offers high output power. As a result, it leads to excess heat inside. Engines require coolants to reduce the temperature inside for better engine efficiency. It is very essential to spend some extra bucks to buy Quality Car Engine Coolants instead of low-quality coolants. Also, coolant and water should be in equal proportion inside the coolant chamber.
Car Engine Cleaning
For proper maintenance, there is a great importance of Car Engine and Transmission Cleaning. Because the dirt and debris deposits lead to the reduction of engine efficiency. So, consistent cleaning of the engine is required for the proper functioning of an engine. These issues can be identified by unusual noises from the car. Also, you can have a look at Car Noise and its Indications for better understanding.
Conclusion
There are Several Reasons Why Chevrolet Engines are Better. Chevrolet Blazer Engine is a reliable and powerful engine with affordable prices. Also, you can purchase a Used Car Engine for the Chevrolet Blazer. The best part about the used engine for the Chevrolet blazer is that it will require less maintenance than other used engines. Because the car production starts in December 2018. Hope you find relevant information on the specs, strengths, issues, and maintenance of the Blazer Engine.