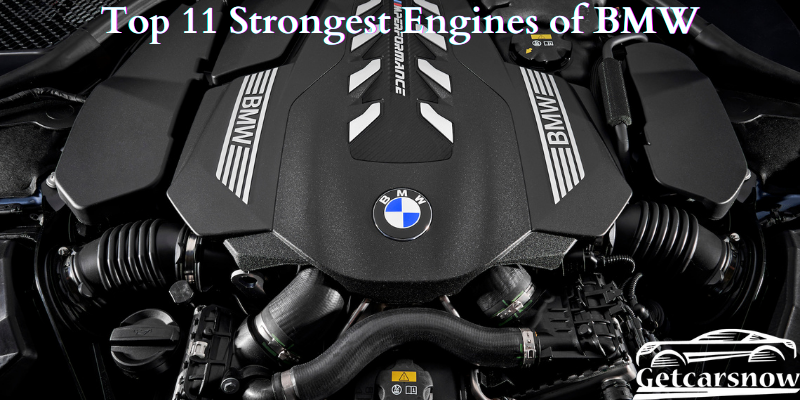 June 9, 2021

June 9, 2021
0 Comments
Top 11 strongest engines of BMW
Created in history and creating history are the two things that a German automobile manufacturer never forgot. Registered as a car manufacturer company in 1928, this company never stopped thereafter. It kept improving their engines, their car models, performances and kept building trust all over the world. From manufacturing engines for top sports cars like McLaren to luxurious cars like Rolls Royce, BMW has it all. Here's the list of the top 11 strongest engines of BMW. And also if you can't afford the new BMW engine but still have the same love towards them then you can look for used engines here.
S63 – BMW M5 CS – 1st strongest engines of BMW
The newly built BMW M5 CS became the strongest engine of the BMW family. This beast has 750 Nm torque (553 lb-ft). This engine is the best in terms of power-to-weight ratio. Because it features 635 PS and 70 kilograms less than the M5 Competition. This engine became the first among all other strongest engines of BMW to remain under a power-to-weight ratio of 3kgs per horsepower.
N74 – Rolls-Royce Wraith Black Badge – 2nd strongest engines of BMW
The name of this luxurious car is enough to make you fall in love with its beauty and comfort. But did you know that it's a BMW-produced 6.6 litre twin-turbocharged V12 engine that gives so much power to this iconic car? This massive engine produces 632 PS and 870 Nm torque The Rolls-Royce Wraith Black Badge is the second most powerful BMW model. And what makes it even more special is that the sources say that this might be the last V12 engine to be featured in any Rolls-Royce cars.
S70 – McLaren F – 3rd of strongest engines of BMW
Remember the time of the 90s when every video game or any car racing sports just had one name in mind, and that's McLaren F1. No doubt why, of course, it has the greatest engine ever built by BMW M. a Few days ago it was even the most powerful engine until the first two launched. This 6.1 litre, free-breathing V12 engine produces 627 PS and 651 Nm torque and it even featured a dry-sump oil system. Along with that, it was the first time when BMW M introduced twelve individual throttle bodies and BMW's VANOS variable valve timing.
N63 – BMW M850i (G15)- 4th of strongest engines of BMW
This engine is the tuned version of the BMW M550i. After tuning it produces 530 PS and 750 Nm of torque. Before tuning, the engine produces 462 PS and 480 lb-ft of torque. After tuning this engine made its name in the top 11 lists of strongest engines of BMW.
It's a 4.4 litre twin-turbo V8 engine.
S58 – BMW X3 M / X4 M
After several numbers of tuning and upgrading from its predecessor S55, this BMW S58 six-cylinder turbo engine produces 510 PS and 650 Nm power. Although it's still a 3.0-litre inline 6-cylinder engine. The tuning helped the engine to produce more power.
S85 – BMW M5 (E60)
This F1-inspired 507 PS V10 engine produces 507 hp and 520 Nm of torque. This is the coolest engine made by BMW. And why coolest, because it catches the speed of 60 in just 4.5 seconds. And the other reason is that it causes so much controversy but remains unique in its way.
S55 – BMW M4 GTS (F82)
When you hear about any M4 GTS engines the first thing that comes into your mind is the water cooling system. How cool is it that when the engine overheats, then spraying of fine mist takes place? This awesome feature decreases the temperature by 80 degrees Fahrenheit. Decrease in heat results in more power and fuel efficiency. And then the engine produces 500 PS (increased from 425 PS) and 600 Nm of torque. The water injection is the world's first system in GTS.
N73 – Rolls Royce Phantom VII
The car with signature design and complemented with modern features were first going to have a 9.0L V16 engine. But they settled for a V12 6.8L 6749 cc engine which produces 460 PS (338 kW; 454 hp) and 720 Nm of torque. Well, the smooth car needs a smooth engine and the V12 6.8L engine matches every criterion to be in Phantom. The F01/F02 760Li generation cars were using the same engine.
S65 – BMW M3 GTS (E92)
The revised version used in M3 GTS, with increased displacement from 4.0 to 4.4 litres. The engine produces 331kW/450 hp and has an impressive RPM of 8,300 which produces 30 hp more than the standard model. The M double-clutch gearbox with seven-speed transmission gear shifting controls the transmission of power in the engine.
B57 – BMW 750d (G11/G12)
A 6-cylinder engine with a displacement of 2998 cm3 produces 394 HP at 6500 RPM. There is a turbocharged direct injection in the fuel system. This monstrous diesel engine consists of a hybrid drivetrain.
S62 – BMW M5 (E39)
The fourth generation of BMW 5 Series BMW M5 was built between 1995 to 2004. This engine was first introduced in 1998, with a 4.9 L DOHC V8 engine. The engine was fitted in the M5 model for the first time. The 4941-cc engine produces the power of 400 PS/ 295 kW (394 hp).
Those are the most powerful engines made by BMW and it's still counting. In the future, there are going to be the most powerful and featured engines launched in the market. Thank you for reading.