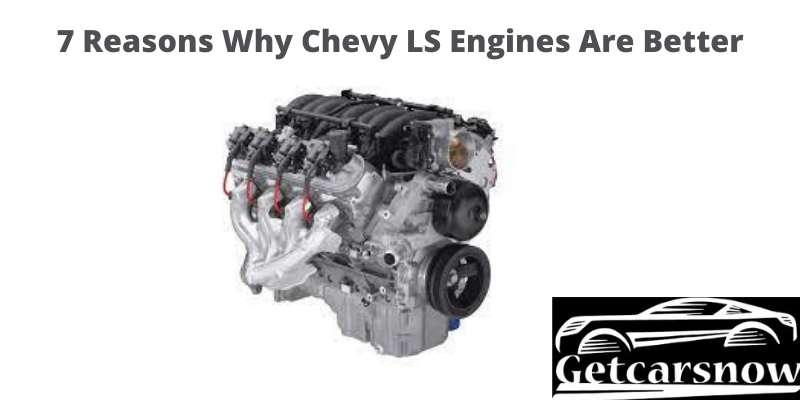 June 9, 2021

June 9, 2021
0 Comments
7 Reasons Why Chevy LS Engines Are better
With the advancement in technology, people are now looking for high-performance cars under their budget. The performance of the car depends mostly on the engine used inside. There are several powerful engines out there. But Chevy LS Engines are better compared to other advanced engines in many ways.
Let's start from the beginning and have a look at Chevy LS engines in detail and why LS engines are better than others.
What does LS Engines stand for?
Chevy LS engines are basically Chevrolet engines that come with different models originated with LS1 where LS stands for Luxury Sport. New models are manufactured later on named LS2, LS3, LS4, LS6, LS7, LS9, and LSA. LS engines come up with Gen III small blocks and Gen IV small blocks. Gen IV LS engine is more powerful and advanced and also has larger displacements in comparison with Gen III engine.
Reasons Why Chevy LS Engines are better
Here are 7 reasons why Chevy LS Engines are better than other engines:-
Small Size and Less Weight
A few years back, the engines were too big and heavy in weight. But nowadays engine companies are trying their level best to decrease the size of the engines with more power to it.
Well, general motors is quite successful to manufacture small size engines which is very beneficial for small cars with less space. It helps to boost their speed and power even with heavy load on the car which was not possible earlier.
Durability of LS Engines
With years of experience and research, General Motors has made one of the most durable engines that you can rely on. With different models and versions like LS2, LS7, supercharged LS9, and LSA, etc, each engine model is just advanced and more durable than others.
Engine Strength
The strength of engines is very much dependent on their structure and design. The past experience of manufacturing engines for Chevrolet was not very good. The Gen III LS engine was designed in a Y-Block structure to provide more rigidity, durability, and strength to the engine. It was a drastic change in engine manufacturing that provides the foundation for new and advanced engines.
Price of Chevy LS Engines
First of all, due to their small size and lightweight engines, LS engines are affordable and reliable. Secondly, there is a great demand and supply of chevy engines, and being one of the largest manufacturers in the United States, the prices have dropped further. LS engines are so commonly used and provide great efficiency to both small cars and sports cars.
Displacement Options By Chevrolet
As there are different engines for chevy cars and trucks, general motors manufacture various engines for different sizes. As chevy trucks have 4.8l and 5.3l engine whereas car engine varies from 5.3l to 7l. Also, an increase in stroker kits had lead to many displacement options. These engines vary in price and power. But efficiency and strength has not been compromised.
Engine Performance
The performance of engines is basically dependent on the power of the engine. More the power more will be the efficiency of the engine. The first Chevy LS engine (LS1) had a power of 345 Horsepower. Then each model comes up with better power efficiency. The most powerful LS engines are LSA supercharged with a power of 580HP and LS9 supercharged with a power of 638HP. Modern It Technology is used to manufacture these high-efficiency engines.
Economical Upgrades and Aftermarket
As we have already discussed that Chevy LS engines are among the most powerful and widely used engines. Due to its popularity, demand, and supply, the upgrades of LS engines are quite cost-effective. Turbo kits, stroker kits, camshaft, etc, are cheaply available and are reliable too.
Conclusion
Different models of LS engines have different power efficiency, size, weight, and torque. It depends totally on the type of Chevy vehicle you are driving.
But in comparison with other engines, Chevy LS Engines are better, more powerful, easily available, and affordable. The research and development team of Chevrolet is trying their best to find out ways to make more low-cost and powerful engines. Hope you find valuable information from this guide.