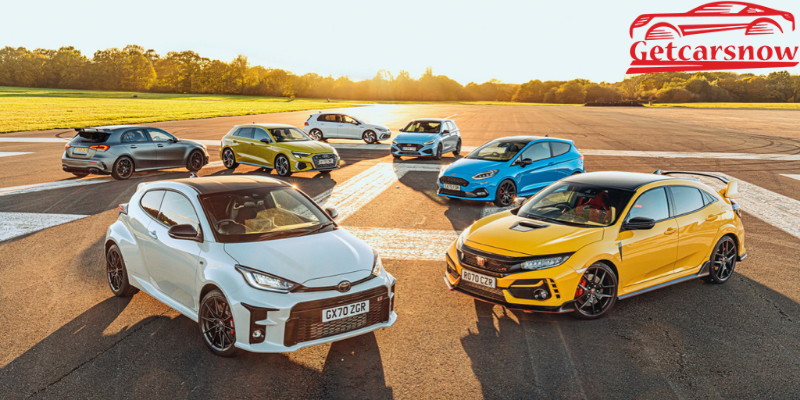 October 7, 2021

October 7, 2021
0 Comments
Top 10 Best Hot Hatches
A hot hatch is a high-power hatchback car. If you're looking for a car that does everything cheap, consider a hot hatch. A hot hatch is an update to family hatchbacks. They offer endless driving fun, are inexpensive to purchase and maintain. In addition, they are extremely practical too. When it comes to the balance between performance, cost, and everyday usability, the hot hatch is best. Better still, although the Hot Hatch performance has increased, the running costs are still pretty low. This means they are good value for money. As a result of mechanical as well as electronic tricks, the latest Hot Hatch delivers enough power. So here are the Top 10 best hot hatches today.
1. Toyota GR Yaris – Top in Best Hot Hatches
Toyota's amazing new rally-bred Yaris deserves a top reckoning here. It's priced more like a full-size hatchback than a supermini. Also, it goes far beyond its weight in terms of absolute performance. The GR Yaris has a 1.6-liter three-cylinder turbo engine with 257 bhp, four-wheel drive. This makes the car able to reach a speed of 0 to 62 mph in just 5 seconds. It features communicative controls, confident balance when cornering, and amazing dynamic composure. This gets you to higher speeds and more fun where and when you can get it. The GR Yaris is a very rare and especially affordable performance car.
2. Ford Focus ST
Focus ST is kinda insane with a speed of 5.7 seconds with a high speed of 155 mph. It's probably the best Hot Hatches you can buy now. There are smart adaptive dampers that amplify the signature of the sound of the 2.3-liter EcoBoost engine. Also, an electronically controlled limited-slip differential, and features like launch control and flat-shift. It's the first Focus ST that has adaptive dampers and a limited-slip differential for the driving front axle. The latter being quite rare in vehicles in this price range and certainly contributing to its driving comfort.
3. Mercedes-AMG A45 S
The Mercedes-AMG A45 S is a four-wheel-drive hot hatch that costs over £ 50,000. It has a 2.0-liter four-cylinder engine that produces 416 horsepower and 369 lb-ft. It has an engine with a higher specific power than that of a Ferrari 488 Pista. Anyway, beneath all of its wings, fins, and flares sits a phenomenal driver's car. The straightforward performance is immense undoubtedly. Even more surprising is how good-natured its complex steroidal drivetrain is when simply driven. As a hot multi-talent hatchback, the A45 S is sure to be a triumph.
4. Honda Civic Type R
The Type-R badge finally found its way back to America on the Civic's newest hatch. It's a bang of a machine. With over 300 hp available, you will never be bored at the wheel. While the price tag may seem quite expensive at face value, it's actually incredible and affordable. This is considering how powerful the Honda (316 hp) is and, most importantly, how good it is to drive. Civic Type R is fast, but also too stiff, and thus limited in their fair racing attractiveness.
5. Renault Sport Megane RS – 5th in Best Hot Hatches
The fourth-generation Megane RS is not a hot hatch for just pretenders. With the specified cup chassis, this is a sturdy, sharp, broad cannon that requires serious commitment. Also, no major compromises if you want to get the most of it. Super concise handling, while hydraulic stops ensure that the suspension can withstand any load it is ready to impose. With the right conditions, or even better, there's a lot to like here on the track.
6. BMW M135i xDrive
The new BMW 1 Series, the M135i xDrive, is a better hot hatches. For the better, we clearly don't mean more powerful or at best more exciting. During a wide test track and further communication of its sticky limits when it came out in 2019. BMW then refined the car's handling and specs scrapped half of the four-wheel drive. M135i is a car whose automatic-only Transmission Line is a bit off track and not as annoying as some cars in this class. Still, it has a great high-speed purpose. The M135i is more delicate than the norm and worth considering.
7. VW Golf GTI mk.8
VW was aiming for more responsiveness and driver appeal with the eighth generation of its popular Golf. In the meantime, this has negatively impacted the sweet, easy-to-use temperament the GTI has long negotiated with. The car's 242-hp 2.0-liter engine is still a little underpowered compared to the other cars here. It sometimes feels a bit sharper, but it offers the punch and responsiveness that the chassis allows for. The car's new firmer spring makes it better than typical broads in the UK on softer surfaces. It's undemanding in daily use, but not as absorbent as it could be.
8. Hyundai i30 N
Korean automaker Hyundai came up with its first N-branded performance model, the i30 N. The i30 N has a surprisingly tough temper and a real sense of performance. This is not expected from an automaker with so little prior experience. The weight in the regulators has a real old-school flair. Also, the increased gravel in its power development and the increasing strength in its cushioning. The i30 N's tighter, more aggressive suspension, steering, and drive modes are too uncompromising. This makes the car hard to read. It's not an absolute grip, but a really responsive, balanced, and immersive car for the driver.
9. Skoda Octavia vRS
Skoda's warm Octavia, the vRS, has always been the answer to a question from drivers. They need more everyday usability from their everyday driver. Also, they are not quite ready to stop driving. Versatility is what this car brings to the affordable driver car scene. You can have one with a 2.0-liter turbo gasoline engine that produces 242 horsepower. One more option is a 2.0-liter diesel that produces 197 horsepower if you prefer. The former is available with three pedals and a manual gearshift. The latter with all-wheel drive on request, five-door and station wagon bodies. The four-wheel-drive diesel is a great addition to this gasoline option. Also, offering more traction and ease of use for everyday use with greater economy and range.
10. Cupra Leon – 10th in Best Hot Hatches
The Cupra Leon does everything you'd expect from Hot Hatches, it's fun to drive, extremely fast, looks great, and is inexpensive. What can you not like? Ok, the branding may be a mystery to some, but if you do your homework you will know that the Cupra Leon dwarfs its Volkswagen Golf GTI Clubsport cousin where it matters and is the most focused driver's car. also in price, while the overall sophistication is impressive. With good standard equipment levels and this exclusive image, the Cupra ticks all the boxes and is hard to beat.
Conclusion
So to conclude, here we have tried to give the details of the top 10 Best Hot Hatches. Always do thorough research on the main things you are looking for in a car of a specific brand. If you are planning a new car, there are some important things to be aware of. Always do extensive research on the car you are looking for. Also, you can continue reading about the Top 10 Best Sports SUV, Top 10 Best-selling Cars In Europe.