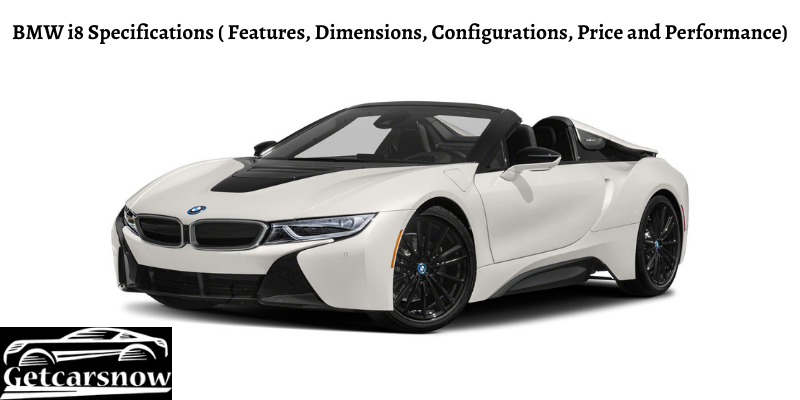 June 16, 2021

June 16, 2021
0 Comments
BMW i8 Specifications
Features, Dimensions, Configurations, Price and Performance
How many times has it happened that you look at a car and say "Oh! This car is classic.". And every time when someone says something like this, of course, he/she refers to some old classic petrol or diesel version engines. But what if we ask you to think of an electric-car family classic vehicle. You may get confused and ask how's that possible because electric cars are modern technologies. Well, if you see the BMW i8 you'll surely say that it's the classic of electric cars. Why? Let's see why. Here's the BMW i8 Specifications (Features, Dimensions, Configurations, Price and Performance).
No matter if it's about diesel or petrol engine or an electric engine of the BMW. The BMW always gives its best. Read about the top 11 strongest engines of the BMW. However, the production cycle of the BMW i8 might have been ended but this car is still fresh in everyone's memory. Started as the most futuristic design and with top-notch technology in the year 2014. And this car soon made itself on the list of most iconic cars. The first BMW plugin hybrid model opened up the way to the most impeccable driving experience of electric cars. So what are the features that made the BMW i8 so dynamic and adored by customers? Let's start with the BMW i8 specifications.
BMW i8: Specifications
From being the family of plug-in hybrid cars, this BMW i8 Coupe has made its name as an all-wheel-drive subcompacts cars.
Features and Specifications
This car has an inter-cooled turbo gas/electric I-3 engine. It has body coloured outside mirrors, body-coloured bumpers and there are both side rearview electric mirrors. It has a headlight washer and tinted glass panels. Not everyone notices small details like leather steering or gear knob but the BMW i8 has leather which obviously makes it more premium and classic. It has EBD (Electronic Brake Distribution), ABS (Anti-lock Braking System), traction control and brake assist and ESP ( Electronic Stability Program).
If we talk about the security and safety of the BMW i8 then there is central locking and engine immobilizer and with all that it has 8 airbags, seat belt reminder and of course parking sensors with a camera.
Let's look at the console feature, it has every possible and important instrumentation. It has an average fuel consumption metre, digital clock, door ajar warning, distance to empty meter and tachometer.
The lighting of this car is really futuristic, it has very charming xenon headlamps, front fog lights, DRLs, led tail light, the darkness sensing headlights, ORVM turn indicators and very beautiful rear fog lights.
Dimensions and specifications
The body type of the BMW i8 is a coupe
The exterior dimension of this car is that it has a wheelbase of 110.2 inches and a length of 184.9 inches. If we look at the width and that is without mirrors then it has a width of 76.5 inches. The height of the car is 50.8 inches. The width of the front track is 64.7 inches and of the rear track is 67.8 inches. This car looks like a real reptile of the road with a ground clearance of 117 mm.
Now if we go for the interior dimension then it has a passenger seating capacity of 4 peoples and the total passenger volume is 81 cubic feet. The BMW i8 coupe has a front headroom length of 38.7 inches and a front legroom length of 43.1 inches. The dimension of the cargo area is 5.4 cubic feet so that you don't have to get worried about your journey with luggage. The curb weight of the BMW i8 is 1485 kg.
BMW i8 Specifications and Configurations
The inter-cooled turbo gas/electric I-3 with a displacement of 1.5L/91 cu. Inches. The fuel system of the engine is a gasoline direct engine. And the ARAI Certified mileage of the car is 47.45 km per litre.
The dynamic petrol engine produces 228 BHP @ 5800 rpm, and the electric motor produces 129 BHP and the petrol engine produces a torque of 320 Nm @ 3700 rpm, electric motor- 250 NM. The engine is a 1499cc turbocharged Inline-3 petrol engine with 2 Hybrid synchronous electric motors.
It has a 6-speed automatic transmission shift with the ratio of first gear at 4.46:1 and second gear at 2.51:1. The fuel capacity or gas tank size is 30 litres. The number of cylinders under the hood is 3. It has the feature of paddle shift and has 50.36 g/km emission of CO2. The electric range of the BMW i8 is 37 km.
Price
The BMW i8 has made everyone look at itself while riding and even while standing. The awesome butterfly doors and cool lighting with the body made of carbon fibre. It has high-end materials and finishing. Here's a list of prices of the BMW i8 according to models and years.
2020 Coupe – $148,495 MSRP
2020 Convertible – $164,295 MSRP
2019 Coupe – $94,714 – $108,972
2017 BMW i8 – $69,522 – $87,914
2016 BMW i8 – $55,341 – $73,691
2015 BMW i8 – $52,550 – $73,815
2014 BMW i8 – $48,151 – $71,293
Performance
Only three cylinders in a sports cars sound a little bit unfair but that is where the assistance of an electric motor comes. With an electric motor, the BMW i8 feels as quick as other competitors.
In the company papers, the official records are that the BMW i8 take 4.4 seconds to reach 0-60mph speed. This sports car cum eco-car has different kinds of driving modes, which really feels like that the invested money is worth every penny.
Also the BMW i8 series really feels very light on the feet and hands as well. The steerings are like finger-tip light.
In conclusion, the BMW i8 is definitely a supercar with a reminder of how important is the environment to us. And anyone can build a super-car without burning gallons of gas.
Thank you for reading.