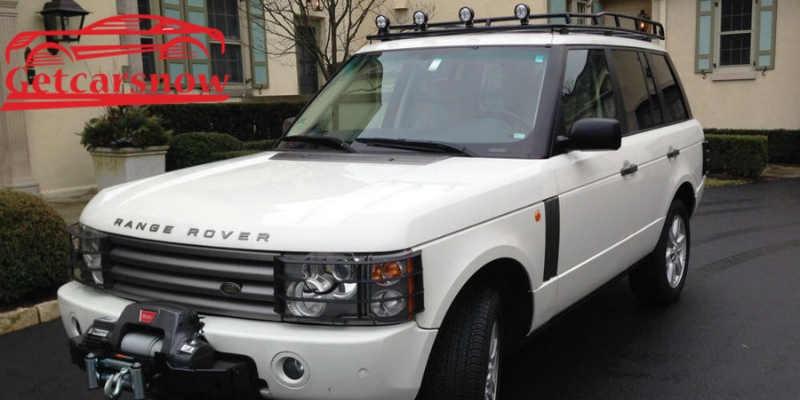 October 4, 2021

October 4, 2021
0 Comments
Full Used Buying Guide: Range Rover L322
The Range Rover L322 is the third-generation model from the British automaker Land Rover. The L322 was introduced in 2001 and has been in production for over 10 years. From the start itself, the L322 was first and foremost a luxury car and then an off-roader. As both a luxury car and an off-roader, it was second to none. Moreover, this came with the same legendary off-road capabilities one expects from a Land Rover product. It is still looking good, with illuminated running boards, and heated and cooled rear seats. Soon in 2009-10 the 4.2 converted to a 5.0-liter whereas the 3.6 TDV8 to a 4.4 having smarter turbocharging.
Many used L322s are on sale nowadays. Moreover, as Used cars have become quite popular it's best option to go for a used Range Rover L322. So here we will discuss the specifications followed by its concept & development. In addition, we will also look at the design features, common Issues, and price range of a used car.
Table of Contents:
Specifications of Range Rover L322
Concept And Development of L322
Design & Technology of Range Rover L322
Common Problems with L322
Pricing of Range Rover L322
Conclusion
Specifications of Range Rover L322
The Range Rover can launch itself from 0-62mph in just 7.5sec. Also, if you need to haul something heavy or just want to get bumpy, this is the SUV of your dreams. An L322 is a complicated beast with unmatched mechanics. It's a feature-rich car with a splendid performance. This makes it even more important to discuss its specifications. Following specifications make it a good choice.
Power = 130 to 294 kW
Horsepower = 177 to 400 hp
Rev. at Max Power = 4000 to 5750
Torque = 390 to 640
Rev. at Max Torque = 2000 to 4000
Displacement = 2927 to 4498 cc
Cylinder = 6 to 8
Valves/Cylinder = 4 V
Stroke = 83.8 to 91.4 mm
Supercharger = Turbocharger
Top Speed = 179 – 225 km/h
Acceleration 0-100 km/h = 8 to 13.6 sec
Let us now discuss the concept behind Range Rover L322 and its development cycle.
Concept And Development of L322
The Range Rover started production in the early 1950s. The company's initial attempt was the station wagon, which was made by Tick ford. This proved too expensive with very few units sold. While it is based on the two-wheel-drive P4 chassis. A high-speed family car with long travel and limited off-road mobility (but not as much as its looks suggest), you may realize that this is the formula for any crossover.
Developed for so long that it was actually replaced by a prototype from the second series and went on sale in 1960. Even in these less state-obsessed times, the Road Rover could no longer convince the Rover management. Fast forward to approximately a decade, and Rover decided that its the right time to replenish the thought of ​​a lesser tractor-like Land Rover model. So in 1966, the Range Rover formula came up from Rover engineers. Next, let's have a look at the design & technology behind Land Rover L322.
Design & Technology of Range Rover L322
Like the Discovery series vehicles, the L322 is monocoque construction. It even consists of independent air suspension on all four wheels that allow the rider in height adjustment. This is, ideal for off-road performance. Other features of Range Rover L322 include air conditioning, leather-covered telescopic steering wheel. In addition, it also has cruise control, a six-disc CD changer, and an outside temperature display, to name just a few. Some extra features can be added to the car for a different experience. These include hot/cool fourteen-way front seats as well as high-quality leather upholstery.
Common Problems with L322
Automatic Transmission(AT) Failure
The ZF and GM5 automatic transmissions used in the Range Rover® L322 are prone to failure. The first symptoms are usually reluctance to switch or the occurrence of errors in engine management or in the dashboard. The next symptom would usually be a vibration noise at low speed. If any of these things happen, it is best to immediately stop the vehicle and use a recovery or tow truck to take it to the repair site.
Brake Pads & Discs
Range Rover L322 is very heavy on brake pads and discs. As a result, they may need to be replaced after fixed miles.
Air Suspension Faults of Range Rover L322
The air suspension has set itself apart from its competitors due to its excellent driving characteristics and outstanding off-road mobility. However, there are many components and faults quite common. Most air suspension failures will have the same symptoms, with a suspension Inactive message displayed on the dashboard display. The car will be raised very slowly (or not raised at all) and will only reach the standard ride height, not going off-road or occasionally accessing limited performance (the dreaded lame start mode). Corners are not displayed.
Faulty Ignition Switch in Range Rover L322
Another problem that we see more often in our workshop about the Range Rover L322 is faulty ignition switches. is usually the reason. Older models where the barrel is next to the gear stick isn't too difficult to replace, but if it's to the left of the steering wheel at the top of the dash, then the whole bar will need to be removed to gain access, unfortunately, that takes about 8 hours.
Pricing of Range Rover L322
$3500 to $7000: first 4.4 and 3.0 TDs to first 3.6 TDs having good mileage
$7000 to $13500: Still the first cars but closer to 120,000 miles.
$13500 to $20000: More 2008-on 3.6 TDs and the first 4.4 TDs
$20000 to $27000: The last 3.6 TDs plus the first 2009 registered
$27500 to $40000: A choice from 2012 4.4 TD
Conclusion
There's no getting around that, a cheap L322 gets a bit risky. If you can stretch your budget by an additional $1000, you have more to choose from. Buy one, take care of it, and do some preventative maintenance, and you have a good car. The L322 is a clear winner of the arena.
You may also have a keen interest in How to Describe the Safety of a Used Car Before Purchase? Also, used engines and used transmissions can help in fixing up your existing car itself.