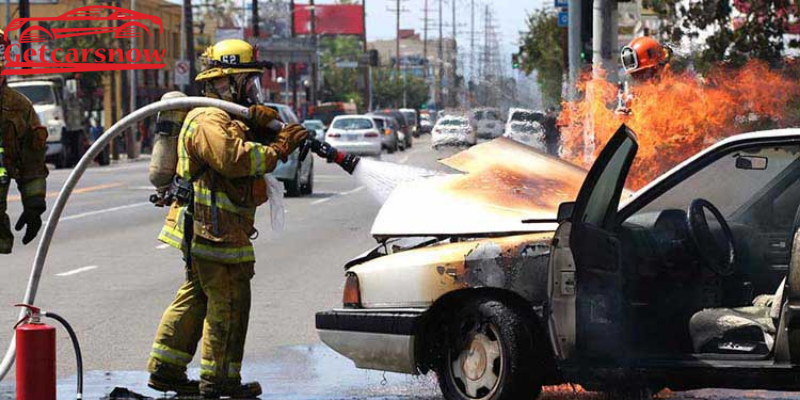 September 14, 2021

September 14, 2021
0 Comments
Protect Your Car from Fire Accidents
A car fire is an uncontrolled burning of a car due to some reason. It is a common cause of fire-related property damage. To protect your car from fire accidents there are some safety guidelines to follow. The car might catch fire due to several reasons. Still, once the fire reaches the fuel tank, it could lead to an explosion. Fortunately, car fires are a rare happening. Although, this doesn't mean it cannot occur. Most vehicle fire incidents are hazardous and can become life-threatening. This becomes especially true if you don't know the exact cause of the fire and how to deal with it.
Most of the time, a car fire is caused by either human error, mechanical, or some electrical faults. Other times it can happen by a combination of all. Although modern cars are much safer, car fires still continue to be a risk. This is due to many electrical parts, batteries, and combustible fuel that make a vehicle operational. For this reason, it is important to know about the different car problems. Also, it is important to change your car's engine oil and transmission oils regularly. Below we will mention the most common causes, warning symptoms, and car insurance coverage in case of a car fire.
Table of Contents:
Common Causes of Car Fires
Warning Symptoms to Protect Your Car from Fire Accidents
Car Insurance For Fire Claims
Conclusion
Common Causes of Car Fires
Automobile fires are mostly the result of human error, mechanical or electrical failure. In some unique cases, several factors combine to cause a car fire. Knowing about these factors can help in a dangerous situation. It will reduce the possibility of your vehicle going up in flames. Following are some common causes of car fires.
Poor Maintenance
When you don't take care of your car, you are increasing the odds of it catching fire. This is because of the faulty wiring, leaky seals, and broken parts that make a car more prone to fires. Also, they make it prone to the conditions that cause a fire.
Arson
Arson is the criminal act of setting a car on fire. This is becoming quite popular nowadays. There are a lot of reasons why some people set an automobile on fire. It could be to cover up another crime or to cover up a theft too. Moreover, It could be vandalism, that is destroying something for the thrill of it.
Design Flaws
Although a design flaw in a car does not make it go up in flames. However, design flaws create a situation that leads to a fire. It is important to note that most car manufacturers recall their cars due to fire-related hazards.
Overheating Engines
An overheating engine can make fluids like coolants and oil rise to a critical level. This results in a gradual spill or leaks out of the area they were expected to stay. As they normally drip and drizzle on other parts, they can easily result in a small fire that spreads rapidly.
Car Crash
Normally, a car does not burst into flames soon after a collision. The reason is, the crumple zones of most cars are designed in such a way that absorbs all the force of an impact. As a result, it protects the battery, the engine, and even the fuel tank. But there may be fuel leakage, as well as smoke and heat. Spilled fluids and heat easily lead to a fire.
Warning Symptoms to Protect Your Car from Fire Accidents
Finding the warning signs of a car fire is important to take corrective actions. The below-mentioned warning signs indicate that the car might be on fire:
Rapid change of oil levels
When oil levels keep going down, there is a strong chance of there being a leak. Check under the car to see any visible signs of a leak.
Leaking fluids
When the area of your vehicle parking has fluid stains, then it needs to be checked quickly. Some of these fluids are highly flammable, so you should get alert and get it checked immediately.
Spilled oil
Spilled oil in the engine area can catch fire easily. So if there is an oil spill, clean it thoroughly.
Loud sounds
When you hear loud sounds from your car, stop it and try to see what is wrong. Carefully inspect the exhaust system of the car to find if there is damage or blockage. Exhausts make loud bangs when there is fire underneath the car or in the rear.
Blown fuses
Fuses generally blow when excess heat or some problem with the electrical connections. When you find blown fuses, then there is a strong chance there is a fire in the engine bay or underneath.
So by knowing about these warning symptoms in advance you can easily identify as well as prevent your car from fire accidents.
Car Insurance For Fire Claims
You can easily proceed with a car insurance fire claim when you have a comprehensive car insurance policy. The comprehensive policy for cars provides extensive fire-related coverage. This includes third-party liability as well as Own Damage cover. The policy offers full coverage against any damage to your car including damage due to fire and explosion. In addition, damage due to man-made or natural calamities is covered. If your car has suffered damage due to fire, you must notify the insurance company immediately about it. Moreover, the claim procedure can begin simultaneously.
Click pictures of the burnt car, and also you can shoot videos from all possible angles. This helps you in having concrete proof of the damages. If needed, a copy of the FIR also needs to be submitted along with other required documents of your car. Although applying for a fire car insurance claim is challenging, but it is simpler if you have bought car insurance online. The coverage that applies to a fire loss depends on the cause of the fire. If it's due to an accident with another vehicle or object, the claim is settled under collision. Otherwise, most of the fire claims are covered under comprehensive coverage.
Conclusion
To conclude, cars catch fires and can do serious damage to the lives as well as properties. So, if you are a car owner, it is in your interest to keep every part of it in perfect running condition. Although it might look difficult and expensive, it will prevent your car from catching fire. Also, the information provided in this guide will help you to prevent a car fire. You can read more about the Importance of car maintenance and car engine maintenance tips. By maintaining your car properly you can easily protect your car from Fire accidents.