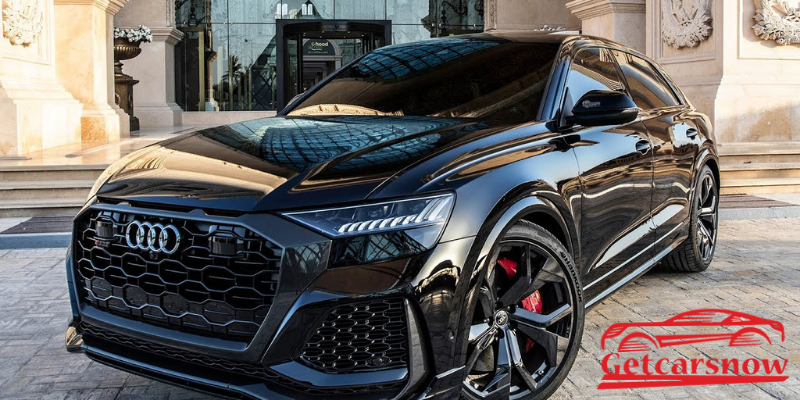 March 23, 2022

March 23, 2022
0 Comments
Audi RS Q8 – Full information
The Audi RS Q8 is a 5-seater, high-performance luxury car. It is a high-performance version of the Audi Q8 SUV. The RS Q8 is powered by a 4.0L twin-turbocharged V8 engine that produces 550 horsepower and 590 lb-ft of torque. It can go from 0-60 mph in 3.6 seconds, and the top speed of this car is 305 mph. That is a very fast time for a car. The Audi RS Q8 also has an all-wheel-drive system that helps it to stay on the road and go faster.
The RS Q8 is a sports car version of the company's popular Q8 SUV. It is sportier and more luxurious than the standard model, which is equipped with all of the latest high-tech features, including a 12.3-inch touchscreen infotainment system, Audi's Virtual Cockpit, and an eight-speed Tiptronic transmission. It also has all-wheel drive, air suspension, and a Quattro sport differential. 
Specification
| | |
| --- | --- |
| Price | Rs. 2.12 Crore |
| Seating Capacity | 5-seater |
| Engine | Twin-Turbocharged 4.0-liter V-8 Engine |
| Engine CC | 3996 cc |
| Transmission | 8-Speed Automatic Transmission |
| Power and Torque | 591 bhp & 800 Nm |
| Variants Available | Only 1 Variant |
| Top Speed | 250 kmph |
| Fuel Type | Petrol |
| Fuel Tank Capacity | 85 Liter |
| Mileage (upto) | 8.26 kmpl |
| DriveTrain | AWD |
Audi RS Q8 has 23-inch diamond-turned alloy wheels, four-zone climate control, panoramic sunroof, a head-up display, and cruise control system. Other features of this car are ambient lighting, Bang and Olufsen's advanced sound system, and Audi's MMI infotainment system.
Exterior design
The exterior design of this car is really awesome, it looks like the regular Q8 but with sufficient body in the appearance to match its high-performance nature. Its new appearance includes RS-specific elements, 22-inch alloy wheels, an integrated rear diffuser, and many more. Some other exterior design features are hallmark RS oval tailpipes and the RS roof edge spoiler, which underline the performance of the Audi RS Q8. 
The enlarged wheel arches and visibly all-round RS sill in the body help to support the body parts in the car. The dynamic design of the RS bumper with radiator protective grille and the large air inlets in gloss black makes it more impressive to the outside view.
Interior Design
This car has a 5-seater layout that is good for the family. It makes your journey easy and comfortable. Its inside design looks nice, as well as very comfortable. You can go on a road trip in this car and enjoy it. Its interior design is similar to that of the standard Q8 but with sporty touches to match the RS badging. 
If we talk about features, it has many features like you get a lot of kit like Audi's virtual cockpit, 360-degree parking camera, sport adaptive air suspension, and two RS modes for personalized drive settings. It comes with an air quality package with the four-zone climate control system. 
Some other features are, it offers a Black styling package with logos in black, panoramic sunroof, a head-up display, matrix LED headlights, RS Sports Exhaust, a B&O music system with 3D sound, and RS dynamic package. It is a rival for the likes of the Porsche Cayenne, BMW X6M., and Lamborghini Urus.
| | |
| --- | --- |
| Good Things | Could be Better |
| Comfortable, good for road trip | Expensive for some people |
| Using digital technologies | Not economical |
| Well-thought-out | Narrow rearward visibility |
| Good luxury midsize SUV | Maintenance cost: $95 to $461 |
Conclusion
The Audi RS Q8 is a sports car that has a lot of features. It is a car that makes you drive fast and have a good time. The car has a V8 engine with twin turbochargers. This engine makes the car go from 0-60 mph in just 3.7 seconds.
That is a very fast time for a car. The Audi RS Q8 also has an all-wheel-drive system that helps it to stay on the road and go faster. I hope you like the information and follow our website to know more about cars.
It's too cool to drive and smooth and I hope you enjoy it. Always hurry to drive it. People usually always like to drive it because it has a really fast speed with ergonomic seats.
This is the genuine item that's underlined by too much power, too much torque, too much money, and too much fun! This is the Audi RS Q8.