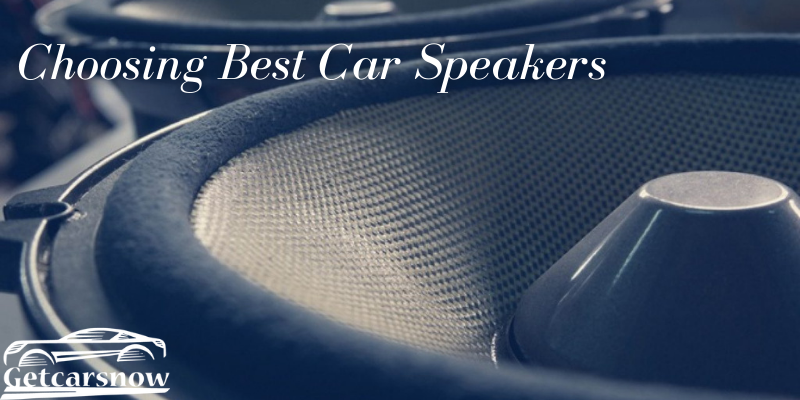 July 30, 2021

July 30, 2021
0 Comments
Choosing Best Car Speakers: Complete Guide
Agree or not, but long drives with family and friends have become a trend now. People love to take a break from their daily routine and to enjoy some quality time with their close ones. But in all that you know what is mandatory the music! Without the music every journey is incomplete. That is why now the car manufacturing company has started mentioning the specifications of the speakers in the main column of specifications of the car. If you're planning to purchase some mind-blowing speakers for your car, here's the guide for choosing the best car speakers.
Music has become so important for a journey that even automobile manufacturing companies have started installing top-notch speakers in their cars. In spite of that, there are some hardcore music lovers who haven't been fully satisfied with the stock speakers. That is why they like to replace the factory-made car speakers with their own choice speakers. If you are the same hard-core lover of music and are thinking to change your car speakers or buying the new one. This guide will help you in knowing the right speaker type and will also help in choosing the best car speakers. Also, we will discuss the proper setup of the car speakers which is also important if you want to have the best experience of the car music.
Also, during long rides, you might some issues like car vibrates when accelerating or power steering fluid leaks. Therefore it is recommended to look prior at engine maintenance tips and car maintenance.
Types of Car Speakers
Well, there are basically two types of car speakers. However, some sound lovers are very fond of installing other components as well. But the two basic types of speakers are:
Component Speakers
Full-Range Speakers
Both of these speakers have drivers installed inside. Drivers are the parts that convert electrical energy into sound waves. The intensity of the sound from the speakers depends upon the drivers and also the frequency of the sound.
Component Car Speakers:
The component car speakers are the best if you want to enjoy the sound in stereo mode. Because in component car speakers the drivers for both tweeter and subwoofers are different. That is why the installation of the Component Car Speaker is a little bit complex. But this feature has its own benefit. While performing on separate drivers, the speakers work at their full capacity. That results in crystal clear audio quality.
Here are the top 3 Component Car Speakers:
JBL GTO609C
This is a 6.5" Component Car Speakers. It is in our first position in the list of best car speakers because of its performance and sound quality. These speakers have a frequency response of 67 Hz to 21 kHz, this helps the speakers in producing better clarity audio. Also, it has other features like it has soft-dome tweeters and vented magnet assemblies.
Polk Audio DB6501
It is a two-way component speaker, which has a frequency response of 35 Hz to 23 kHz. It has some special features which actually make these speakers be in the 2nd position in the top 3 car speakers. These speakers come with stainless steel mounting hardware and a two-layer Kapton voice coil.
Kenwood Performance Series
These are also two-way speakers but it actually has some unique qualities. Like, it has an in-line crossover, which gives a perfect balance between high pitch sound and low pitch sound. The nominal impedance of these speakers is 4 ohm.
Full Range Speakers:
These speakers are also known as coaxial speakers. Unlike, component car speakers it has only one driver unit through which all tweeters and subwoofers work. But the number of drivers isn't the only thing that makes the full-range speakers different from component speakers. In full-range speakers, a Whizzer cone has pushed the frequency of the drivers to its limits. Later, other enhancements are done to the cone to get a better sound experience.
Since these speakers use the single driver system for both the tweeter and the subwoofer. The installation and wiring process is very easy.
Let's look at the top 3 full-range speakers.
JL Audio C5-650X
This is a two-way 6-¾" coaxial speaker. The frame has cast alloy with a feature known as Elevated Frame Cooling. The drivers inside these car speakers can handle the power from around 25-75 watts. Also, these speakers have a frequency response of 48 Hz to 25 kHz and a sensitivity of 89.5 dB.
HERTZ HCX 165
These are 6.5" Coaxial Speakers, with a power handling range of W peak 200 and W continuous 100. The impedance capacity of these speakers is 4 ohm. The magnet size of these speakers is 85 mm, which makes these speakers extremely loud. The highlights of these speakers are that these speakers a savage combination of performance and build quality.
FOCAL K2 Power 165 KRC
It is a full-range speaker which has a power handling capacity of 160 watts per speaker. These speakers can play any type of music at its best. That is because of its build quality, which has Aramid, foam, and glass fibers.
Setup of the Car Speakers
Setting up the car speakers in the right way is very much important. Because the position of the speakers will decide the audibility to your ears. It will not matter that whether you are installing a full-range speaker or a component speaker. If the setup of the speakers is not perfect, you will not be able to enjoy the full capacity of the speakers.
There are two ways of installing car speakers. The first most preferred locations are the factory locations. In factory locations, it is easier to install new speakers in factory locations. However, if you want to get the best sound experience inside your car, the custom location option is perfect. The manufactures decide the factory locations. They basically choose the front dashboards, the car doors, and the rear deck as their preferred speaker locations.
But setting up your own custom location for your speakers is the best. Some often choose custom locations for a speaker is a set of custom kick panels. Because kick panels help to make the speakers remain on equal paths. It is important for speakers to be on equal paths because then only both ears will be able to hear a balanced sound.