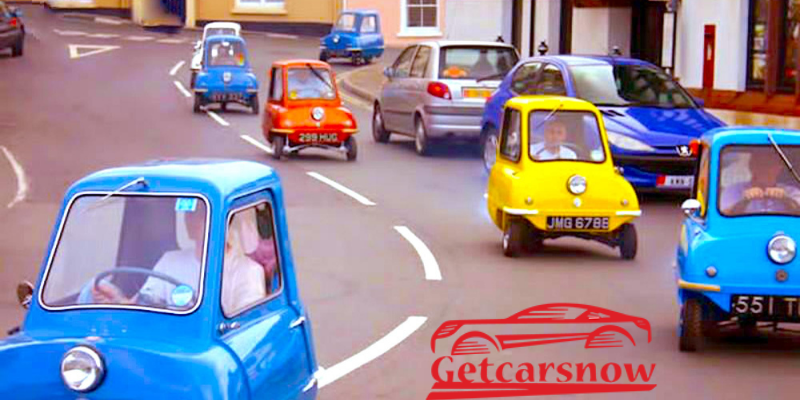 September 9, 2021

September 9, 2021
0 Comments
Top 5 Smallest Cars in the World
Smallest Cars In The World are important because their market is huge. Automobile manufacturers rely on small cars to achieve corporate average fuel economy criteria. Due to the compact size, it's convenient for parking and does not take much space. Given below top 5 Smallest Cars In The World which was built by many major companies:-
1. The ElBil Norge Buddy Cab
A Norwegian electric car, the ElBil Norge Buddy Cab. It is the sixth iteration of a model known as the Kewet, which was first introduced in 1991. Over 1000 electric vehicles were developed and sold in eighteen countries throughout the first five generations. ElBil Norge AS purchased all rights in 1998. It's odd that the Buddy Cab originated from Norway, given how kind Scandinavians are.
The Buddy was available in two models: standard and BuddyCab, the latter of which had a folding roof. In 2007, kern in Oslo had a weekly production capacity of 5–6 automobiles. with a possible yearly production capacity of 500 vehicles. ElBil Norge was working to build new production locations in order to suit international needs. While the company prepares for export, the Buddy was only available in Norway.
The Buddy is made up of a sturdy, hot-galvanized steel tube frame with a safety cage, but no deformation zones. The body is built of a light fiberglass composite. Other metal pieces have been treated to eliminate the need for further rust treatment. The electric motor is a Sepex 13 kW direct current brushless motor with a voltage of 72V. To achieve maximum reliability, tried-and-true technological solutions were chosen.
2. The Lumeneo Smera
In May, the Lumeneo Smera, a French-built electric vehicle, went on sale for around $33,000. It is presently only available in France, but in 2010 it is scheduled to be available across Europe.
Many individuals who may not like it will be persuaded to buy one because of the acceleration. Smera can accelerate from 0 km/h to 100 km/h in 8 seconds. This is owing to the tremendous torque provided, which is 1,000 Nm. Imagine what it could do to a 2.45-m-long automobile if it was desirable in a larger vehicle.
Lumene created the SMERA, an ultra-compact battery electric vehicle (BEV) concept automobile. The vehicle is a two-seater vehicle that can tilt up to 25 degrees. It's something between an electric automobile and a scooter. with a length of 2500 mm and a width of 960 mm (track 655 mm) with a lithium-ion battery pack. It is regulated like an automobile in Europe.
3. The Reva G-Wiz
The REVA Electric Automobile Company (RECC) in Bangalore, India. produces the G-Wiz and a city car that is now the world's leading electric car manufacturer. They're available in the United Kingdom, but not in the United States.
The REVA is a compact three-door hatchback that measures 2.6 meters (8 feet 6 inches) in length. 1.3 meters (4 feet 3 inches) in width, and 1.5 meters (4 feet 11 inches) in height. Two people can sit in front and two can sit at the back of the car. But the back seats may be folded down to make more room for cargo. And the maximum weight of the cargo is 270 kgs.
The REVA is designed for city travel and commuting, and especially when traffic is heavy. It is classified as a heavy quadricycle in Europe. It can be exported to the United States with a speed restriction that restricts the car's top speed to 25 mph for use as a neighborhood electric vehicle.
4. The Ford Ka
The Ford Ka has a shorter length, width, and height than a BMW Mini Cooper. Who'd have guessed the Mini wouldn't even crack the top ten?
The original Ka, which debuted in 1996, is seen as a modern-day Volkswagen Beetle. Despite Europe's increasingly rigorous emissions and safety rules, they're still going strong in the UK. Ford CEO Alan Mulally declared that last month the Ka would not be sold in the United States. Because he did not believe American shoppers would accept a Ford model smaller than the Fiesta.
Despite its cheap selling price, Ford has made a lot of money on the Ka, thanks to low development expenses. In the United Kingdom, Ford sold 17,000 Ka models in 2006. Premature surface and structural corrosion develop on automobiles used in more northern, damp climates due to insufficient anti-corrosion treatment.
5. Nissan Versa
The 2020 Nissan Versa is a subcompact vehicle with a gorgeous interior and a modest price. It measures 177 inches from tip to tail. This five-seater has been completely revamped for 2020, and its trunk can hold 14.7 cubic feet of luggage in the base model and 15 cubic feet in the SV and SR models. For a small car, those are decent figures. Unwieldy objects can be easily stowed thanks to the large cargo entrance and capacious trunk.
The Versa comes standard with 60/40 split-folding rear seats on most model levels, making it extremely adaptable and practical.
Given its modest starting price, the Nissan is also one of the most cost-effective subcompact cars. In terms of safety, the Insurance Institute for Highway Safety (IIHS) gave the 2020 Versa the highest rating of Good in the two crash tests it underwent. The Versa has a five-star overall safety rating from the National Highway Traffic Safety Administration (NHTSA). These are excellent ratings, and the Versa backs them up with a slew of standard driver-assistance features like pedestrian recognition, forward collision warning, automatic emergency braking, automatic high-beams, a rearview camera, and lane departure warning.
Conclusion:-
These are the Smallest Cars In The World which were developed by the top developers. Some of the cars were sold a lot while some of them weren't sold much and were a failure in the market. There are some compact cars that are still sold and have a huge market cap in the market.