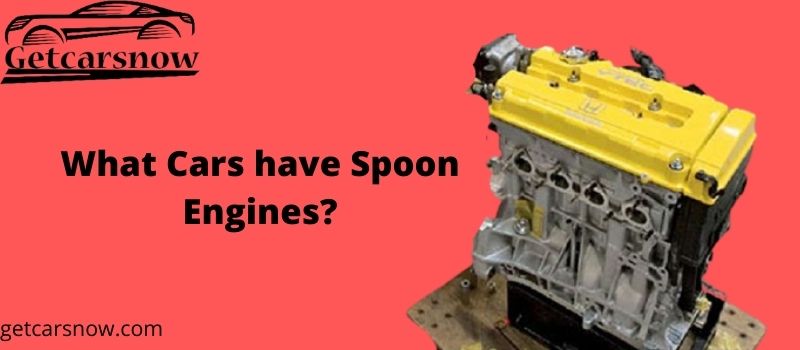 October 15, 2020

October 15, 2020
0 Comments
What Cars have Spoon Engines?
If you are a fan of Fast and Furious then you are definitely familiar with the term "Spoon Engine". Now the thing is whether it is real or not and if it is then what does Spoon Engines means?
Spoon engine is nothing but an engine manufactured by Japan's sport engine manufacturer known as spoon sports Engine. The engines specialized in normally aspirated high output engines of Honda. These engines have been in the market for decades (about four decades). Its target is to operate honda models at the maximum speed possible.
What spoon Engines really are?
We can basically say Spoon engines are superbly modified and professional honda engines. If we talk about speed and power it will definitely be in competition with racing car engines.
Spoon engines are basically manufactured in the spoon company by assembling different spoon parts. If you are taking these spoon parts and assemble by yourself it will not be called a Spoon Engine. The main focus of the spoon factory is not to make professional racing motor accessories but to balancing and refining OEM parts from honda engines.
What cars have a Spoon Engines?
While Spoon Sports does buy reseller's exchange parts? The main reason behind they are such a big brand and their motor gear and units are intended for standard Honda models. For example, the Accord, the Civic, the S2000, and even the Acura Integra. The selling point and thought behind the incredible Spoon Engine is the way that Spoon Engine renovating is to make the vehicles that they are found in, run as quick as the eye can see!
Some of the models of Honda with a spoon engine are Civic, S2000, S660, Accord, Acura Integra, Fit, CR-Z, N-One.
What is Refining and balancing?
Many of the car parts are spoon parts in addition to Honda OEM parts. What spoon sport does is refining the OEM parts of honda and balances them instead of manufacturing. The refining and balancing mean modifying the motor component by checking the exact accuracy and technique. It has their refining process with exact science behind that
Torquing the bolt at 0.01N/M of Honda measure.
Measuring and weighing each engine parts
Precise the parts at 0.01grams
Balancing the piston and rod.
Spoon Engine Specifications
Specifications are not the same for every model of the car engine and also depends on the main features and specifications you want in your car engine. Let's take an example of Spoon S2000 coupe which is used for road and track speed racing and can have the following modifications.
Horsepower – 260 BHP at 8500 RPM
Torque – 188 lb/ft at 6600 RPM
Bore x stroke – 87.0 mm x 90.7 mm
Displacement – 2157 cc
Transmission – 6-sp Manual
Building of Spoon Engines
Building a spoon engine is not simply just replacing the spoon component with your OEM engine parts. It is a complete process and handled professionally and precisely. Some of the key points to keep in mind are
Air parts must make down power while decreasing drag.
Breaking down should create great driving and execution.
Driveshaft must be smooth and extreme.
Choke body must be sufficiently large to expand force and reaction.
Head gasket must have the choice to face up to extraordinary temperature and weight.
Gusset plates must fortify body quality.
When you add the following exactness with the spoon engine, you get the best and high output engine.
There are some issues in finding the way to get your car to the spoon sports facility one of such is the transport process which takes a lot of time and is also costly. In addition to that, there are also spoon sports services. These are costly but not that much that there are rumors that a spoon engine costs as a new car.
Whereas you can also see that there are crate engines (pre-modified spoon engines) or you can also buy these from the authorized dealer. Engine parts are also available online which you can self assemble or you can assemble these by the mechanic.
Conclusion
Spoon engines are not only limited to movies but they really exist and available for the honda models such as Civic, S2000, S600, Accord CR-Z, and others it is smartly and professionally manufactured under Spoon Sports company in Japan. It is an expensive modification that's the reason it is rarely seen outside Japan. Only rich people can afford their honda car modifications at Spoon Sports. If you need a spoon engine under the budget you can go for the Spoon crate engine. The customization will amaze you and will feel like changing your car like a supercar(sports-racing car). Hope you liked the blog get enough information about the Spoon engine and its components.