December 30, 2020

December 30, 2020
0 Comments
Tips To Purchase Used Tires & Wheels
Tires and wheels are some of the most important items for your vehicle. In terms of maintaining the performance of the car. However, they are one of the most expensive purchases for your car. That's why most of the time people will go with the used tires & wheels. But choosing these used tires & wheels for the car is not an easy task. Also, many users don't know how to purchase old tires & wheels due to lake of knowledge.
Buy used wheels or tires for a car is always beneficial due to its low cost. That means you will save more amount of money. Here in this guide, we try to provide you with complete information on how to purchase old tires & wheels.
Also, we tried to give complete knowledge on which tire is good for your vehicles. Whether you are looking for traction in winter or groping tires in summer, do not look anywhere else and that's not all. We can also help you with oil changes, brake services, wheel alignment, and more. We have over four decades of experience serving the community with quality tire services.
So, firstly you should always keep in your mind before purchasing any old tires and wheel is very tough to decide, there are lots of details which it keeps yourself and vehicle safe.
How to purchase old tires & wheels
When you think about how to purchase old tires & wheels the basic understanding is the condition of the tire you need to consider. Because of the good condition of the tire, it will provide great mileage & the best driving experience.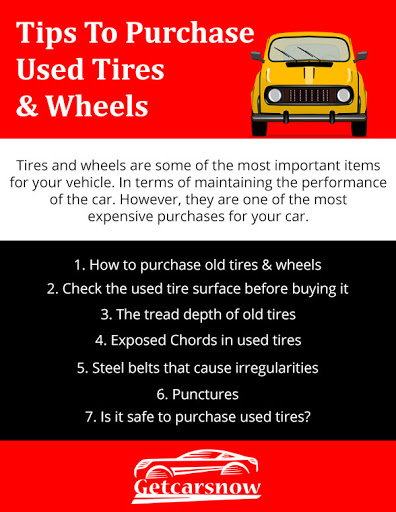 To purchase olds tires and wheels, we have put together some details that should be read before purchasing old or used tires or wheels for cars. Here get information on a few important points which help you to understand how to purchase old tires & wheels.
Check the used tire surface before buying it
The first step to consider is to check the inside and outside of the tire. If there are bumps or cuts at a lot of places, it means the tire is not good for purchase as it indicates a loss. Also, there is a number of cuts present on tire surfaces, the age of the tire is not much longer. So when you will go with this type of tires it will completely waste of money.
The tread depth of old tires
The best way to check the depth of tread is by using a coin. The test can be done using one rupee coin. To check for tread, you need to follow that procedure. Place a rupee coin vertically on the surface of the tire and see if the number 1 seen on the coin is partially visible. If the number one appears on the coin in its entirety, it means that the tire has almost reached the end of its life, and just looking for further damage on the tire is not worth the time and effort. If number 1 appears partially on the coin, it means that the tire can be used for a few more thousand kilometers.
Exposed Chords in used tires
Tires have wires and are meant to keep the tire structure stable for better performance. If you see the cord coming out, it means that the tire cannot be used further. Reasons for the exposed cord are due to a bent tire, improper air pressure in the tire, and mismatched alignment. A well-maintained air pressure quality of the tire increases the mileage & reduces the maintenance cost of a car.
Steel belts that cause irregularities
Be sure to run your hand over the pavement of the tire to see any bumps or irregularities. As it means the tire has been used badly and needs to be recycled. The steel belt maintains the structure of the tire and prevents it from wavering. If there are any major defaults present in this steel belt, that means the performance of the tire or wheel, not in great condition. Also, it will be a major cause of any unexpected accidents. So always consider that point when you think about how to purchase old tires or wheels.
Punctures
Tires with too many punctures are not safe to use. Check the inside of the tire to see if there are patches. If you see many patches it means that the tire cannot handle the air pressure and there is a possibility that the tire may malfunction again. Driving on such tires is also not safe for you. Also, if there are lots of puncture whole present in the tire there is a high priority to occurs again & again.
So always try to check there is no or less puncture in the tire.
Is it safe to purchase used tires?
Most of the people think is it safe or not to buy old tires & wheels. The answer is it is completely safe. When you buy a used tires & wheels if you considering a few important points. Such as condition & type of tires & wheels.
So always consider these important points when you think about how to purchase old tires & wheels.
When we talk about the safety feature of old tires & wheels this will 100% depend on the type of tire & its condition. Most of the old tires & tire rims are polished to shine & attract the clients. But the original condition of these products you will get after competing for inspection. So don't believe the buyer & check both tire & tire wheel with your self only & buy after 100% satisfaction.
Summary
If you are looking to buy used tires & wheels for cars, the first thing that clicks in your mind how to purchase old tires & wheels. Because car wheel & tires is an important part of it. Also, your decision makes your car life more long-lasting. There is also doesn't matter if you are looking for used tires for a new engine car or a used engine car. These points will help you in both cases.
So before buying these old tires & wheels you need to consider a few important points which we are share in this blog. Apart from choosing the right tire size, you need to look at which vendor is providing a maximum discount on tires & wheels. I hope this article will help you to get proper information when you think about how to purchase old tires & wheels.