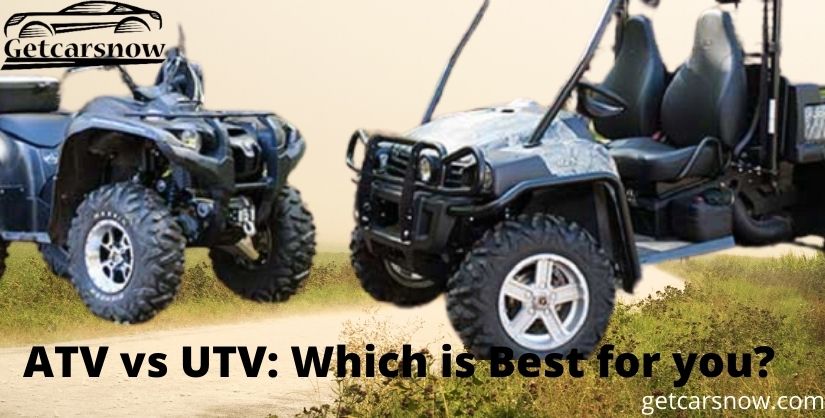 October 19, 2020

October 19, 2020
0 Comments
ATV vs UTV: Which One is Right For You?
What's the difference between these two ATV and UTV? We often get confused between the two, well all your answers will be covered here ATV stands for all-terrain vehicles basically are four-wheelers or quad bikes with handlebars and no roll cage, UTV stands for utility vehicles also known as "side by side" or SXS are generally small profile trucks, which can carry around 4 to 6 people at a time. Now you know the basic difference between ATV vs UTV, now the question arises which one of the two is better?
Well, this question can be answered by you only what are your needs and for what purpose behind it? ATV and UTV both of them fulfill their different purposes ATV is smaller in size and it is more appropriate for single riders whereas UTV, on the other hand, is appropriate for 4 to 6 people.
ATV vs UTV: Compare and Make your Choice
There are many factors which can be considered before making your decision which one will be right for you?
SIZING
ATVs are usually smaller in size comparatively UTVs, ATVs are more appropriate for tight spaces or the places which have less space as it turns quickly and takes less space that's why they are used for racing, on the other hand, UTVs are bigger in size and demand more space for riding as you need to maintain balance in this for your control. UTVs are also appropriate for those who prefer to ride with others and want safety in the first place since UTVs are larger and are more comfortable then ATVs due to their automobile style bench and roll cage-like enclosure.
BUDGET
When it comes to its price point ATVs are less expensive comparatively UTVs, because of their sizes but if we consider it in other way say added safety features UTVs are considered as a better option as they are safer than ATVs thus can save your lot of cost of safety gear and accessories such as helmets, protective clothing, gloves, boots which are all required in ATVs, if your safety accessories exceed your budget you should think before you come to your buying decision.
SAFETY
If we consider safety then UTVs are safer options comparatively ATVs as they are bigger in size and have more safety features such as roll cage, seat belts, windscreen, power steering, specialty lighting. Loading ramps etc add on to more safety for drivers.
LIFESTYLE
Now, this is completely on you after all the vehicle you should be a right choice for you and as per your preference, if you prefer riding alone, and don't have high budget and safety doesn't matter to you the most than ATV can be the right fit for you but if you are someone who needs more functionality and safety matters to you the most and you like the idea of customizing as per your choice than UTVs are a better option for you.
JOB ROLE
ATVs are more ideal for work like land mowing, light cargo towing, snow plowing and wincing, farming and hunting it is relevant for quick work and for recreational purposes as they are lightweight, UTVs are meant for specialized works and can be used for construction and farming purposes, transport large cargo and to haul some equipment. It is up to you for which purpose you are looking for?
FAMILY
UTVs are more family appropriate as they have extra seats and can easily carry 6 people at a time whereas ATVs are meant for single riders, UTVs have safety features such as seat belts windscreen which are important if you want to do an adventure with family whereas ATVs don't have such features in it.
CUSTOMIZE
UTVs have the option of customizing, you can customize it as per your choice you can add LED lights, a stereo system, in-cab heaters, wheel upgrades, and personalized stuff, etc. You won't get such choices made in ATVs.
LOCATION
ATVs are more appropriate for tighter spaces such as woody forests, on the other hand, UTVs are suitable for places like hilly zones as the path might be dizzy, while both UTVs and ATVs are relevant for rocky terrain, sand dunes, rough paths, etc.
ATVs
Single riders
Tighter spaces
Are on a budget
Non customizable
Less safe
UTVs
Family
More space
Expensive
Customizable
More Safer
Both ATVs and UTVs are a great option for recreational fun and utility work, which one will be suitable for you? Well, this question totally depends on your definition of fun what fun meant for you? If you like to have fun alone or with a group, if you are a racing enthusiast then ATVs are the best choice for you as they are lightweight and agile and are appropriate for quick turns and to jumps.
If you are someone who likes to adventure with a large group in hilly areas then UTV is the right choice for you or if you want to customize your favorite vehicle as per your preference UTVs are meant for you. Some of the reliable brands for ATV and UTV are Honda, Polaris, Yamaha, Suzuki, Kawasaki mule, cub cadet challenger, etc. Both of them have distinctive features which I have stated in this blog which is to be considered before reaching a buying decision but most importantly whether you choose ATV vs UTV you should consider your safety first.
At last, JUST BE SAFE AND HAVE FUN!!!!!