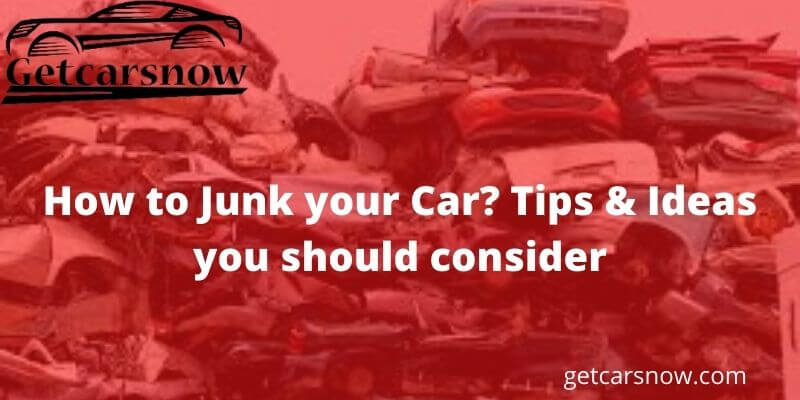 October 7, 2020

October 7, 2020
0 Comments
How to Junk your Car? Tips & Ideas you should consider
Generally each and every machine has a life cycle and vehicles are one of them. A junk car is basically the breakdown of many different parts and systems and that is not worth keeping anymore. Whenever a car is rusted, damaged & beyond repair. These vehicles are not worth selling anymore and are like a scrap only. These scrap vehicles are known as junk cars. Now you have no other options than junking your car.
5 tips and ideas to junk your car:
Here are some tips to junk your car –
1. Selling parts & accessories from your car:
Remove any particular or valuable parts – The main focus to junk a car is to make money from it. At the time when you junk your car to your junkyard make sure to remove the valuable parts from your car. The other reason to remove the valuable parts of the junk car is to sell those parts and make money out of it because these parts can make you more money when they are sold independently. 
Some of these parts include:

Alternators
Entertainment/Radio Systems
Starter Motors
Batteries
Wheels
2. Remove any personal Belongings:
Cars are our second homes and we put many of our personal belongings in the car like insurance, important documents, and jewelry, etc. when the time is there to junk your car make sure that no valuable personal belongings are there in the car. Check all the compartments of the car and remove personal belongings before you go and junk your car. 
3. Junking your car:
Select a Junkyard – Select a junkyard and mainly the one that is closer to you because you have to transport your car to the junkyard somehow. 
Verify that the junkyard accepts the car – Some yards only accept specific or certain material so make sure that the junkyard will accept your car. 
Transport your car to the junkyard – The best and cheapest way to transport your car to the junkyard is to drive it there. You can also get your car towed to the yard or the yard crew will come to tow your car. 
Make sure the paperwork is ready – Keep in mind that the paperwork is ready before time. If you have not done your paperwork properly than you, then the yard may not accept your vehicle. 
4. Remove the license plate:
At the point when you visit your nearby DMV to demand a title wiping out, they may request that you have the tags, too. Make sure to call in advance to check on the points of interest. Mostly it is required that you take off the licence plate when you play out the official exchange of proprietorship. So, when you go to junk your car in the junkyard do bother about the licence plates.
5. Cancel your car Insurance:
If you had paid for full inclusion ahead of time, you're qualified for a discount on insurance. Regardless of whether your inclusion is nearly up and you feel there isn't anything to lose, it's as yet essential to tell your transporter. This thing will keep a strong business relationship, and a superior relationship implies you could fit the bill for limits or exceptional proposals later on.
Conclusion!
At last I want to conclude that these are the tips and solutions for junking your car. You must take out your personal belongings as well as other parts and accessories which can make you good money. These were some important tips which you should consider before sending your car to the junkyard or junk your car.