Want to buy car fuse? You are at the right place. We getcarsnow provides the best car parts and are a trusted, partner for all the brands. So if you are searching for quality and affordable car fuses. Getcarsnow is the best option for you. As we provide long term warranty and guarantee to our clients. But before buying fuses or any other part you should have great knowledge about the product. So let's discuss car fuses.
Car fuse is the safety device that protects your car from excessive electric current. Each and every circuit in the car is secured by its own fuse. An overloaded wire without a fuse may melt or catch fire. Multiple larger fuses with high Amp ratings cover multiple or high-current circuits, such as electric power steering and radiator fan circuits. There is at least one primary fuse as well.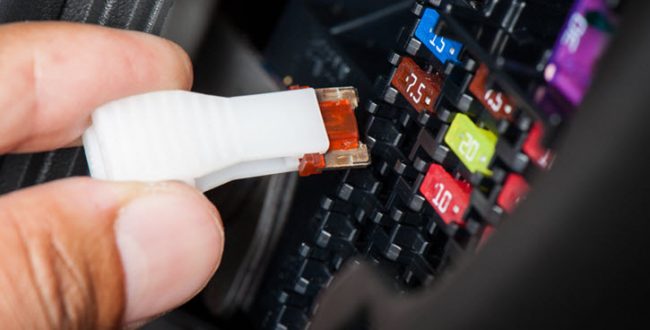 As mentioned above fuse is a device that is designed to protect the electrical system against damage. Basically, in common there are 3 types of fuses that we are going to discuss.
Car Fuse box and location
In most of the vehicles there, are two fuse boxes. The first one is placed in the engine section. That is mostly used to protect the engine parts such as the engine control unit, cooling system and anti-lock brake pump. The second one is mostly found in the cabin area or under the dashboard. And helps to protect the interior electrical items. Car fuse box replacement isn't usually required unless the vehicle has undergone physical damage or electrical problems.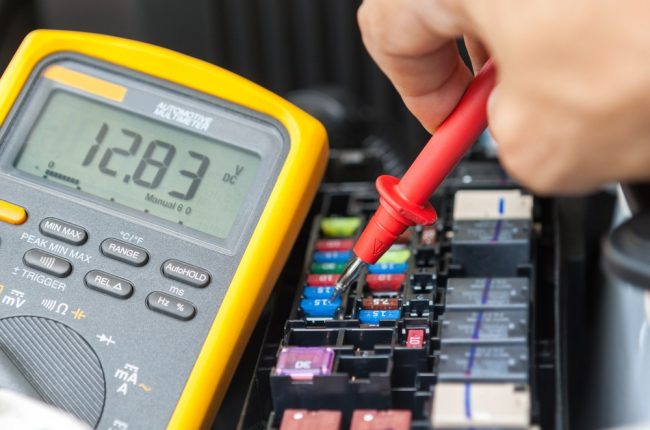 How to check a car fuse with a multimeter?
With a multimeter, there are two ways to check a fuse. The primary way is to measure the voltage at both pins (blades) of the fuse. The top portion of both pins of a small fuse in a car project through the top of the fuse. This helps you to check the voltage on both sides of the fuse without removing it.
Then, set the multimeter to DC (Direct Current). Attach the COM terminal to the negative battery terminal or a metal component attached to the chassis or body of the car. Turn the ignition key to the ON place and apply the parking brake. Since not all fuses are activated. When the ignition is switched off, the ignition must be turned on. Check the voltage on both sides of each fuse with the positive probe. A fuse is nothing more than an electrical conductor. The fuse is fine if both sides display 12 Volt.
| | |
| --- | --- |
| Product name  | Car fuses |
| Material  | Copper, PVC bras  |
| Size  | specification |
| Rated voltage  | 32V-250V |
| Usage  | Automotive |
| Type  | Waterproof fuse block  |
| Rated current  | 100A/200A |
| Packaging type  | Box  |
| Quantity  | 1-100 (To be negotiated) |
| Colour  | Colourful  |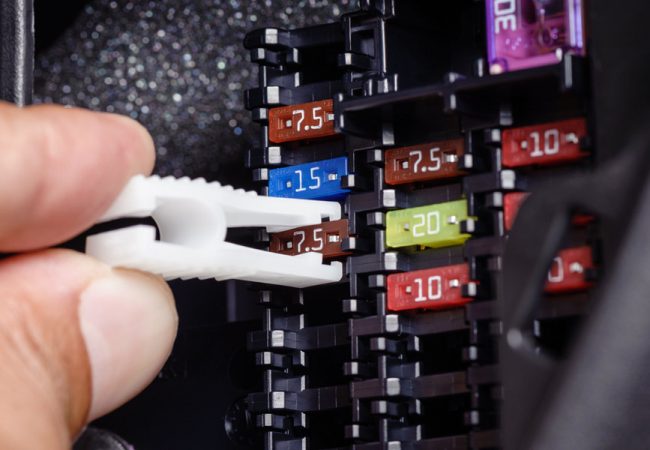 Why Getcarsnow for a car fuses?
As we deal with the complete range of automotive parts from car fuses to used transmissions. Our offering cost is very low as compare to the market. We are trusted by lots of people. As we provide the best service and guarantee to our customers. We do have reliable customers support. And a team of highly skilled mechanics for your service.  We also have used engines for sale for any of your car. Getcarsnow assures you to provide